Undercover police officer Mark Kennedy 'defied' bosses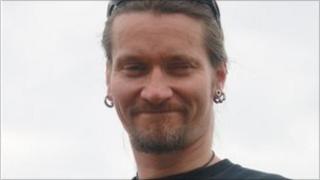 An undercover policeman whose actions led to the collapse of a trial of environmental protesters "defied" management instructions, a report says.
HM Inspectorate of Constabulary (HMIC) reviewed the activities of Mark Kennedy and other undercover officers.
Its report found that Mr Kennedy helped unearth "serious criminality" albeit with a "lack of specific outcomes".
Mr Kennedy said it was "difficult to understand that the people that I worked for have made me a pariah".
He also said that while the subject was never broached directly, it was "impossible" that his superiors had not known he was having a sexual relationship with protesters.
The report suggested that an independent body might be required to authorise deployments. It also said Mr Kennedy was inadequately supervised and oversight of undercover officers needed to be strengthened.
'Contrary to instructions'
The review was set up after the case sparked wider concerns about the the National Public Order Intelligence Unit's deployment of undercover officers.
The report said that during his seven years undercover Mr Kennedy had become "resistant to management intervention" and carried on working "contrary to instructions" after being arrested in 2006.
The inspectorate said Mr Kennedy operated outside the code of conduct for undercover officers - he claimed to have had at least two relationships with female protesters.
Such behaviour is not explicitly banned under the code but is considered to be "grossly unprofessional".
The review made four recommendations for more robust controls of undercover police work.
These include greater oversight by the Office of Surveillance Commissioners, and a thorough review of all operations that last more than six months.
In an interview with Victoria Derbyshire on BBC Radio 5 live, Mr Kennedy said he was "outraged" at the assertion that he had not obeyed orders.
"I was so closely monitored by my cover officer," he said. "I had one cover officer who was in contact with me every single day that I was deployed in those seven years.
"There's a whole chain-of-rank structure all the way up to the Chief Constable of Nottinghamshire who signs the authorisations.
"[The report] says that I went to 11 countries on 40 different occasions. Now, as an undercover officer it's your responsibility to be assured that you have the authorisation for deployment and that authorisation comes all the way down from the highest ranks."
But he agreed that the supervision of his undercover work - and that of other officers - had been inadequate.
"I honestly think that the lust for intelligence and other people's career development really overshadowed the care and attention that could have been placed, or should have been there, for me and other officers.
"I have to be accountable for my own actions and I did the things that I did. But I think that the report and what is being said is trying to make it sound like I was running the operation and I was off doing things on my own which I find very distressing."
Chief Inspector of Constabulary Sir Denis O'Connor told BBC Radio 4's Today programme that a balance needed to be struck between protecting the public through undercover operations and maintaining citizens' privacy.
"The controls in the field were inadequate about what [Mark Kennedy] did, where he was and who he was with - and it sometimes strayed into things which would not reach the threshold for this kind of level of intrusion, which is why we make our recommendations about raising the bar."
Sir Denis said seeking prior approval from a body outside the police before undercover officers were deployed would lead to a much more significant, challenging and testing degree of control and real consideration for officers' welfare. "So that if there are any signals - and there were plenty of signals with Kennedy - that things were going awry, then those signals are picked up."
Convictions quashed
In December, a report by retired judge Sir Christopher Rose concluded that failures by police and prosecutors led to the collapse of the trial.
The case failed when it emerged that Mr Kennedy had infiltrated and potentially entrapped environmental activists. A further 20 activists had their convictions quashed on appeal following the officer's unmasking.
Mr Kennedy spent years underground, infiltrating green groups involved in high-profile climate change protests.
In 2009, Nottinghamshire Police arrested more than 100 people from a group that Mr Kennedy had infiltrated. Twenty of them were convicted in December 2010 of plotting to shut down the coal-powered Ratcliffe-on-Soar power station near Nottingham.
But a second proposed trial of six more protesters collapsed in January 2011 after it emerged that the officer wanted to use his secret recordings to help the defence.
The collapse of the trial led the Court of Appeal to quash the convictions of the first 20 protesters - and also triggered inquiries into the operation and the role of undercover police officers.
Protester Ben Stewart, one of those whose conviction was overturned, argued on the Today programme that a public inquiry should be held to look at all the issues raised by the Mark Kennedy operation.
"For a large period of time there was an undercover police unit operated by the Metropolitan Police Service that was largely out of control," he said.
'Playing James Bond'
Shadow home secretary Yvette Cooper said the report made it clear that "serious reform" of the oversight of undercover policing was needed.
"Undercover tactics are required to investigate and prevent some very serious crimes. But there must be strong safeguards too, to make sure they are used proportionately with a much higher level of authorisation and oversight, and are not abused".
Rachel Robinson, policy officer for civil rights group Liberty, said: "This report is a nudge in the right direction but Parliament must now act to tighten up the law.
"Only legislation will prevent more Kennedys playing James Bond and abusing our trust."
Former undercover officer Peter Bleksly told BBC Breakfast he was disappointed that the report had not focused more on accountability and responsibility.
"Not only was Mark Kennedy - and his cohorts - individually responsible for what they did, but also the managers and supervisors who quite clearly have failed to do their job," he said.
"There has to be an element of free spirit about an undercover cop, but there is a difference between free spirit and a loose cannon."