Bobbies on the beat: When more means fewer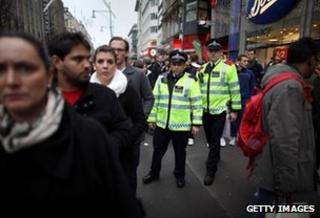 The Home Secretary used her speech on policing this morning to boast about how her government was "making the police more visible and available to the public than ever before".
Theresa May noted that the proportion of officers in England and Wales working on the frontline is planned to increase from 68% in 2010 to 70% by March this year.
"I want to see that proportion continue to go up because it's what's effective in fighting crime and it's what the public want," she said.
One small snag. The figures the Home Secretary was using show that the actual number of police on the frontline is going down. Her Majesty's Inspectorate of Constabulary reckons there will be 2,500 fewer frontline officers this March than two years ago.
The rise in the proportion is down to the fact that the 20% cuts imposed by the government have seen a fall in overall police numbers. Although the impact has been less on the frontline than the "back office", it is a fall nevertheless.
This is what the HMIC's report Adapting to Austerity actually said:
Or, to put it another way…
When the public says they want more bobbies on the beat I suspect they mean more, not a larger proportion of a smaller number.
Take part in the debate on Twitter, using the hashtag #whatarepolicefor.
Mark's series What Are The Police For starts on BBC Radio 4 on Monday 30 January at 20:00 GMT, or catch up with iPlayer