Police pay deal will save £150m, says Theresa May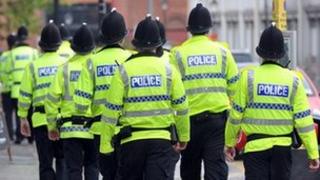 The home secretary has approved a pay deal for police in England and Wales that it is estimated will save about £150m a year.
Theresa May said there would be no reduction in basic salaries but there would be cuts to overtime pay and some other allowances.
In a speech she said some officers would be "disappointed", but added that policing remained a "well-paid job".
But Labour accused the government of being "out of touch".
The government is reducing police spending by a fifth as part of its effort to tackle the budget deficit.
A review for ministers by the lawyer Tom Winsor recommended that £1bn could be cut from pay.
His proposals would have left at least 40% of officers worse off, but the matter was sent to the Police Arbitration Tribunal after the two sides failed to agree a deal.
'Fair to all'
It accepted most of the Winsor proposals, but changed several.
Among the alterations, it said a £50-a-night allowance for officers forced to stay away from home overnight while helping other forces should be brought in.
In a speech in central London, Mrs May accepted all the tribunal's recommendations, saying: "After a thorough and considered review, Winsor provided us with the outline of what a modern police pay structure could look like.
"He produced a package that is fair to the police and that is fair to the taxpaying public - a package that can produce savings and improve incentives, that recognises and rewards specialist skills and front-line service, not just time served."
She went on: "The Winsor report has been considered by the independent Police Arbitration Tribunal, and I can announce today that I am accepting all of the tribunal's recommendations in full.
"I know that some police officers will be disappointed by this outcome. But I want to stress that there will be no reduction in basic pay.
"Extra payments will be targeted at front-line staff and those doing the most demanding work. And the total savings will represent less than 2% of the total police pay bill."
'All-time low'
Mrs May added: "Policing will remain a well-paid job. And the fact remains that, if we hadn't taken this tough decision, we would have had to cut police budgets more deeply and there would have had to be more police job cuts.
"That is something that neither the police nor the public wants."
Mrs May said the tribunals recommendations would save "around £150m per year".
For Labour, shadow home secretary Yvette Cooper said: "The home secretary is still ducking the main issue, which is the 16,000 police officers being cut and the 20% budget cut as a result of her decisions.
"At a time when personal crime has gone up by 11%, the home secretary is out of touch with the problems communities face."
She admitted that Labour had said the home secretary should accept the deal, but accused Mrs May of leaving police morale "at an all-time low".
'Pressures'
But the Police Federation, which represents officers in England and Wales, said the deal will mean "serious financial hardship".
Chairman Paul McKeever said: "Let's not forget, this government is unduly targeting police officers.
"In addition to what amounts to a four-year public sector pay freeze and increased pension contributions, police officers are having to contend with a range of changes to terms and conditions; the result of which is effectively a pay cut."
Chief Constable Peter Fahy, the lead on workforce development for the Association of Chief Police Officers, said the decisions "strike a balance between the need to achieve savings given the national economic situation and the financial pressures facing individual police officers".
Derek Barnett, president of the Police Superintendents' Association of England and Wales, added that the deal "will draw a line under what has been a protracted and difficult period for police officers".