London 2012: Thousands of hotel nights made available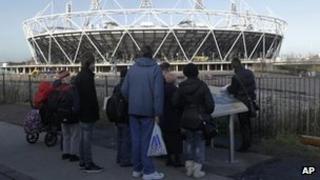 Thousands of London hotel rooms no longer needed for Olympic officials, media and others during the Games have been put back on sale to the public.
About 600,000 room nights were booked by the London Organising Committee of the Olympic Games (Locog) but now more than 120,000 are no longer needed.
They were booked under a deal back in 2005 at more than 200 hotels, from budget to five-star.
A tourism spokeswoman said the availability was a "timely boost".
As part of the bid to stage the London 2012 Games, agreements were struck by Locog with hotels in 2005 to provide rooms, representing more than 600,000 room nights over the two weeks.
The allocated rooms are to provide accommodation for the world's media, International Sport Federations, the International Olympic Committee, people working at the Games and sponsors.
As part of these agreements, Locog agreed to return any unwanted rooms back to the hotels so they could sell them in time for the summer of 2012 - which they are now doing.
The number of rooms being returned to the hotels equate to about 20% of hotel room nights initially reserved in London.
Locog's chief executive officer Paul Deighton said: "We always promised that we would not hold on to hotel rooms we didn't need but return them to the individual hotels at the beginning of 2012.
"We are now doing this and I hope that this enables the hotels to continue with their planning for this summer as we all work together to stage a spectacular Games."
Sandie Dawe, chief executive officer of VisitBritain, which promotes tourism in the country, said: "The fact that such a wide spread of rooms in London will now be made available to the public is great news for overseas visitors wishing to come to the UK to experience the Olympics and all the other wonderful festivities that are taking place over the summer.
"This is an important and timely boost for the sector as it looks to enhance the image of the UK as a destination of choice, showcasing the very best of what Britain has to offer overseas visitors and helping create a tourism legacy for years to come."
Room availability
Miles Quest, a spokesman for the British Hospitality Association, said the number of nights being made available would equate to some 8,000 rooms.
"There will be 110,000 hotel rooms in Greater London, so this latest release isn't a huge number," he said.
"But it will enable more people to book rooms in the centre of London, where it's always busy in July and August anyway.
"The industry was expecting these rooms to be released and we wanted them as early as possible in the new year, so hotels can get on and sell them."
Mr Quest added that, along with the rooms in Greater London, there will be 75,000 more in the South East and within travelling distance of London.
This will mean there will be "more available rooms than any Olympics has ever had".