Archbishop urges state not to 'dictate' over marriage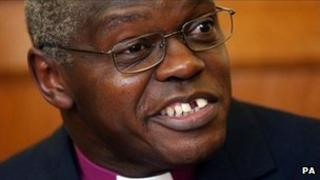 Ministers should not overrule tradition on the issue of same-sex marriages, the Archbishop of York has said.
Dr John Sentamu, the second most senior Church of England cleric, told the Daily Telegraph that marriage must be between a man and a woman.
He supported civil partnerships, he said, but only "dictators" tried to overturn history and redefine marriage.
Dr Sentamu also said the Church should do more to avoid its leadership being mainly white and middle class.
The government will open a consultation on the issue of same-sex marriages in March. A consultation on the subject by the Scottish government ended last month.
'Tradition and history'
But the Archbishop told the Telegraph that it was not the role of government to "gift" the institution of marriage to anyone.
"I don't think it is the role of the state to define what marriage is.
"It is set in tradition and history and you can't just (change it) overnight, no matter how powerful you are.
"We've seen dictators do it, by the way, in different contexts and I don't want to redefine very clear social structures that have been in existence for a long time and then overnight the state believes it could go in a particular way."
Dr Sentamu pointed out that bishops in the House of Lords did not seek to obstruct the introduction of civil partnerships between same-sex couples in 2004.
"We supported civil partnerships because we believe that friendships are good for everybody."
He said the Church also had no opposition to plans to allow civil partnership ceremonies to take place in places of worship, if agreed by the religious denomination in question.
But Dr Sentamu said the Church would not stand idly by if the government sought to allow same-sex marriages to be on a par with heterosexual ones.
He said: "If you genuinely would like the registration of civil partnerships to happen in a more general way, most people will say they can see the drift. But if you begin to call those marriage, you're trying to change the English language.
"That does not mean you diminish, condemn, criticise, patronise any same-sex relationships because that is not what the debate is about," added Dr Sentamu.
The archbishop said: "The Church has always stood out - Jesus actually was the odd man out. I'd rather stick with Jesus than be popular because it looks odd."
Prime Minister David Cameron told the Conservative Party conference last year: "I don't support gay marriage despite being a Conservative. I support gay marriage because I'm a Conservative."
Black churchgoers 'leaving'
Dr Sentamu also said both black parishioners and white working class churchgoers were poorly represented in the Anglican church.
"Where we have lost out is black people who had been realised Anglicans, who are now joining Pentecostal churches. That's a huge drain," he claimed.
"Heaven is not going to be full of just black people, just working-class people, just middle-class people, it's going to be, in the words of Desmond Tutu, a rainbow people of God in all its diversity," he added.
The Archbishop said he had never encountered racism from white clergy during his rise through the ranks of the Church.
But he said: "When I was a vicar there was a lady who didn't want me to take her husband's funeral because I was black. I took one funeral and at the end a man said to me, 'Why did my father deserve to be buried by a black monkey?' We received letters with excrement in."