BBC making 'sensible' plans for director general's exit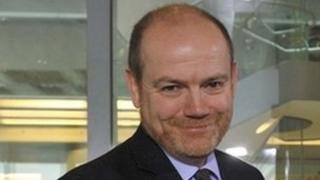 The BBC says it is engaged in "sensible succession planning" to replace the director general Mark Thompson.
It follows newspaper speculation that he will leave the corporation towards the end of 2012, or the beginning of 2013.
The chairman of the BBC Trust, Lord Patten, said on Monday that head-hunters had been appointed to search for Mr Thompson's replacement.
But the BBC has insisted there is no "immediate vacancy".
Mark Thompson was appointed director general of the BBC in May 2004.
He is responsible for its services across television, radio and websites and for a global workforce of 20,000.
The presenter of the BBC's The Media Show, Steve Hewlett, said if it was true the timing of Mr Thompson's departure made perfect sense.
He said: "Lord Patten said he'd do one five year term - that takes him to 2015. There's a new charter to negotiate in 2016/7, that process tends to take years so it'll start in 2014.
"So it makes a lot of sense if Chris Patten is to go in 2015 - you need a director general in place for at least two years before that happens.
"Otherwise you run the risk that either he's forced to stay, or you have a new chairman, a new director general at a critical point in time."
Mr Hewlett added that what was unusual was that the information about head-hunters being appointed had been made public.
Lord Patten, who heads up the BBC's governing body, made the comments in an interview with The Times on Monday.
Mr Hewlett said he did not believe speculation that they were designed to give Mr Thompson a push.
Lord Patten has also indicated in previous interviews he wants to cut any future director general's pay significantly from the £671,000 remuneration package earned by Mr Thompson.
Mr Hewlett said this could become a "proper problem" in finding any replacement.
He said: "In the end the director general's job is a monumentally difficult task. It's more difficult I think than the job that most FTSE 100 executives have.
"It's editorial, it's public, it all happens in the public gaze. If he really wants to appoint someone on less than half what Mark Thompson currently gets, most of the potential candidates, certainly from outside, are already earning two or three times that.
"He may find in the end licence payers are not served by having the wrong person even if they come at the right price".
In a statement the BBC said: "Whilst speculation is inevitable, as the BBC chairman has made clear earlier this week this is sensible succession planning and does not signal an immediate vacancy."