MoD 'to accelerate 3,000 civilian job cuts'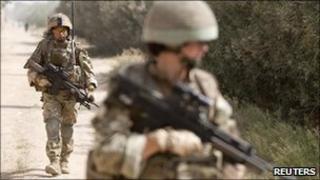 The MoD is to speed up job losses among its civilian staff to try to plug a budget shortfall, the BBC has learned.
It had already planned to shed 32,000 civilian posts by 2020, of which 25,000 were to go by 2015. But the BBC understands that an extra 3,000 of the total will now also go by 2015.
Ministers have accelerated the job losses because of a shortfall in the MoD's budget, believed to be £2-3bn.
The MoD said earlier reports of extra cuts to civilian jobs were inaccurate.
BBC defence correspondent Jonathan Beale said at least 32,000 posts are to close overall - a third of the MoD's civilian staff.
Military personnel are also being cut by around 18%, said our correspondent.
'Balanced programme'
Under the terms of the Strategic Defence and Security Review, announced in 2010, the navy and the RAF each had to cut 5,000 jobs by 2015, the Army 7,000 and the Ministry of Defence 25,000 civilian staff.
Last year, the government said another 7,000 civilian posts would go.
It is understood that the 3,000 job losses by 2015 are being brought forward from among the 7,000 that it was announced last July would go between 2015 and 2020.
An MoD spokesman said: "Reports that the MoD will make a further 3,000 civil servants redundant are inaccurate.
"There are no plans to make any further civilian redundancies beyond what has already been announced to Parliament."
On Wednesday, MPs said it was "grotesque" that 40% of armed forces redundancies had been compulsory, while no civilian staff had been forced out of a job.
The Commons defence committee queried whether the terms on offer to military personnel were "fair or appropriate" given the "shocking" difference.