Rail fare 'dissatisfaction' grows, survey suggests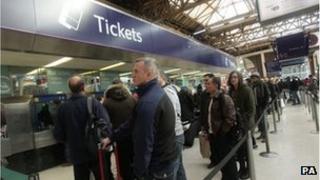 There is a growing feeling that train tickets across the UK do not represent value for money, a watchdog's survey of 30,000 rail passengers suggests.
Passenger Focus found 46% of rail users were satisfied their ticket was value for money compared with 49% a year ago.
But the number of passengers satisfied with their journey overall remained at 84%, according to the survey.
The Association of Train Operating Companies admitted it needed to tackle costs as well as improve services.
Anthony Smith, chief executive of Passenger Focus, said the national passenger survey illustrated "the impact that tough economic times, coupled with fare rises, are having".
He said: "These results will enable the industry and government to focus resources and effort where passenger satisfaction remains in the doldrums.
"It can be done and passengers will give them credit when investment and proactive management coincide."
Passenger Focus surveyed 30,590 travellers between 1 September and 18 November 2011 and asked people for their opinion on the journey they were taking on that day.
This was carried out before an average rise of 5.9% for all rail tickets, including unregulated fares such as advance and business tickets, came in at the beginning of January.
Commuters have faced increases of up to 11% on their ticket prices.
'Basic promise'
Michael Roberts, chief executive of the Association of Train Operating Companies, said of the survey: "We recognise that value for money scores remain lower than others and the whole industry needs to focus on tackling costs as well as improving services.
"Successive governments have pursued above-inflation fare rises to reduce taxpayer subsidy while ensuring ongoing investment in the railways.
"The industry has already set out plans to cut the annual cost of the railway by £1.3bn a year by 2019 as a way to help limit future fare rises."
Passenger Focus found a large difference in levels of overall customer satisfaction depending on the area in which people travel.
Satisfaction scores for individual routes provided by different firms varied from 72% to 95%.
National Express East Anglia (NXEA) had the lowest overall satisfaction rating of all the train-operating companies at 77%, while Grand Central, which operates routes between London King's Cross and the north of England, had the highest rating, at 95%.
NXEA said a number of "disruptive infrastructure failures" last autumn affected its performance on certain days.
Managing director Andrew Chivers said: "We're obviously disappointed. We have been determined to improve customer satisfaction rates in our eight years running this railway. And while they are higher than when we started, they have not increased by as much as we had hoped."
'Sorry'
Mr Chivers said he was encouraged by reported improvements in the survey in areas such as availability and comfort of seats on trains. He said it reflected the recent completion of an £185m investment programme.
Nationally, 81% of passengers were satisfied with punctuality, compared with 82% last year.
Passenger Focus singled out South West Trains and Chiltern for problems with punctuality, saying there had been a decline in satisfaction from 2010, but praised London Overground and Merseyrail for improvements.
Mr Smith said: "We know from this research that performance remains the key passenger priority.
"Train companies and Network Rail must keep up a relentless attention on getting trains on time, not only at the end of their routes, but at stations along the way as well.
"Passengers are still paying above-inflation fares rises and have every right to expect the industry to keep its basic promise to get them there on time."
South West Trains said it had launched a joint 10-point plan with Network Rail to tackle the drop in performance and fall in customer satisfaction in response to the survey.
The company said fatalities on the line had more than doubled in the last year and delays caused by cable theft incidents had increased by almost 500% year on year.
Managing director Tim Shoveller said "Our customers rightly expect a reliable train service and we understand their frustration. When disruption happens, they deserve clear information and a quick response to get trains running normally.
"We are sorry we have let our passengers down recently. We are absolutely determined to work closely with Network Rail to restore their trust and our normal high levels of service."