Newspaper review: Economy cause for doom and gloom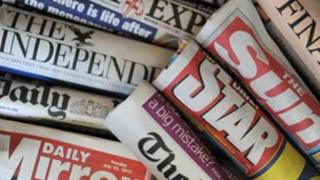 The latest figures on the economy provoke an air of gloom in Thursday's newspapers.
The Times says David Cameron is to urge Europe's leaders to "stop tinkering", after the eurozone crisis helped propel UK towards a new recession.
It says he will tell the World Economic Forum in Davos that only bold action will avert a worsening crisis for Britain and the continent.
According to the Daily Mirror the 0.2% drop in GDP confirms the government's economic policies are not working.
It is a disaster, the paper says, for hardworking people struggling to pay the bills - and it accuses Mr Cameron of squirming to avoid responsibility. The Daily Telegraph highlights a speech the Deputy Prime Minister Nick Clegg will make later.
Mr Clegg will say the coalition should accelerate plans to raise the tax-free income allowance to £10,000 to help "ordinary hardworking people".
The Guardian describes the speech as his "first public negotiation over the budget since the coalition was formed".
It says he will warn that the squeeze on middle-income Britain has reached "a state of emergency".
The Independent says the Chancellor, George Osborne, is considering tax cuts in the budget for low and middle earners in a bid to kick-start the economy.
The Guardian has an interview with German Chancellor Angela Merkel, in which she casts doubt on Europe's chances of saving Greece.
She also apparently conceded that the crisis has brought the single currency to the brink of unravelling.
A boy soldier, too young to buy some computer war games, spent six weeks fighting on the front line in Afghanistan, according to The Sun.
The paper says Adam Wilkie was 17 when he took part in firefights in the Lashkar Gar region of Helmand in 2010.
He hid his age when his battalion was called on to reinforce troops.
Amanda Holden's on the front of several papers amid reports that she fought for her life for three days after giving birth to her second daughter.
The Daily Mail quotes an unnamed close friend saying: "Amanda nearly died. It was a life-threatening situation".
The Sun tells of the horrified reaction of doctors when they learned of the diet of a 17-year-old girl who was rushed into hospital.
Stacey Irving, from Birmingham, was struggling to breathe and has now been put on a course of vitamins.
Stacey, who had never eaten any fruit or vegetables, said: "I'm starting to realise this is really bad for me."