Afghan death soldier named as Signaller Ian Sartorius-Jones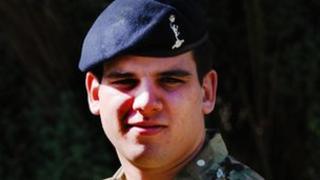 A British soldier who died at a base in southern Afghanistan on Tuesday has been named by the Ministry of Defence.
He was 21-year-old Signaller Ian Sartorius-Jones of 200 Signal Squadron, who was from Runcorn in Cheshire.
The death of the father-of-one, who is understood to have died from a gunshot wound, was not thought to be the result of hostile action, the MoD said.
The number of UK personnel killed in Afghanistan since military operations there began in 2001 now stands at 396.
Military investigators do not believe anyone else was involved in Signaller Sartorius-Jones's death at the Forward Operating Base Khar Nikah, in the Nahr-e Saraj district of Helmand Province.
His family said: "Ian was a lovable character, a devoted father to Dylan, who is eight months old, husband to Kellyanne, a wonderful son to Robert and Amanda and brother to Alan. He will always be missed and loved by all his family and friends."
Signaller Sartorius-Jones enlisted with the the Royal Corps of Signals in February 2007, joined his squadron in May 2008 and was deployed to Iraq and Afghanistan.
Sorely missed
Maj Stu Whittley, officer commanding, 20th Armoured Brigade Headquarters and Signal Squadron (200), said he was a "gregarious, immensely respected and highly capable Signaller".
"One of the longest serving members and biggest characters in the Squadron, he had accrued a vast amount of experience in his short career.
"I will remember Signaller Sartorius-Jones for his dedication to his mates, upbeat nature and cutting sense of humour.
"The Squadron is deeply moved by Signaller Sartorius-Jones' passing. It is a privilege to have served with him and we have lost a true friend. Our thoughts are with his wife Kellyanne, his young son Dylan and his family. He is sorely missed."
Defence Secretary Philip Hammond, said: "I was saddened to hear of the death of Signaller Ian Sartorius-Jones. I understand that he was at the start of a promising career and showed real dedication to his fellow service men and women. My thoughts are with his family at this difficult time."