London 2012: Tents banned from Games venues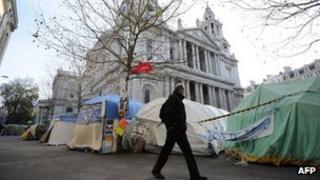 All tents and encampments will be banned from Olympic venues to counter the threat of protests, Home Secretary Theresa May has announced.
Mrs May said preparations were under way for "all eventualities".
She said strict security measures would try to stop equipment being brought into venues and that police would take rapid action to remove any encampments.
In a security update, Mrs May said police had arrested some 100 criminals on suspicion of targeting the Games.
She said the 97 people arrested under Operation Podium included alleged ticket touts, people setting up bogus websites, and those accused of selling bogus hotel rooms.
The home secretary said she was confident police were taking a "robust attitude" to organised crime.
"Police are sending a very clear message that we're not going to tolerate intrusions by organised criminals into the Olympic Games," she said.
"We are also helping the police and Locog (London Organising Committee of the Olympic Games) to deal with the other emerging threats that have faced the Home Office in recent months, such as encampment protests."
BBC security correspondent Gordon Corera says security at Olympic venues is the responsibility of Locog - who need to make a request before the police can take any action.
He says, in her briefing, the home secretary said that she had explained this new policy to Locog and that she trusted that they would now add tents and related equipment to the list of items banned from being brought into venues.
Lists of restricted items are likely to be published with the next ticket sales in April.
Freedom of speech
Bob Broadhurst of the Metropolitan Police will be in overall command of the policing operation in London for the Games.
He told the security conference, hosted by the Royal United Services Institute in London, that police had "no plans whatsoever" to stop protests. "We are proud of freedom of speech - that will continue, but the Games must go on.
"I have to balance the rights of protesters and people who want to go to the Games. I am asking protest groups if you want to protest come to us. We can manage protests, but we need to talk."
Mr Broadhurst said he wanted to get the balance right between safety and security.
"I think people like to see police officers, that makes them feel safe. What they don't want to see is too many in one place, or too many carrying firearms in one place, because that generally makes them feel a little bit nervous," he said.
"So the balance for me is to make sure I've got the officers with the right skills and the right kit but not necessarily lining the streets."
The security challenge around the Olympics will begin in earnest when the Olympic village opens on 13 July and will continue until the Paralympic village closes on 12 September. In total, 34 venues across Britain will be covered by the security operation.
Royal Air Force and Navy personnel on Wednesday began a three-day Games training exercise in Yorkshire. The Ministry of Defence (MoD) said Exercise Taurus Mountain 1 would see jet and helicopter pilots practising operating beside each other.
During the Games, aircraft would be based at London's RAF Northolt and HMS Ocean on the River Thames and other "ground based air defence systems" will be in place across the city, the ministry said.
A 23,700-strong security force - including 13,500 military personnel - is being assembled. Private security guards and volunteers will also be used.
The government says safety and security funding for the Games has been protected, with the vast majority going to the police.
As well as London 2012's £600m security budget, the Games has a £2bn contingency budget, part of which can be drawn on for security purposes. These figures do not include an undisclosed counter-terrorism budget.