RMT's Bob Crow tells Leveson Inquiry of 'harassment'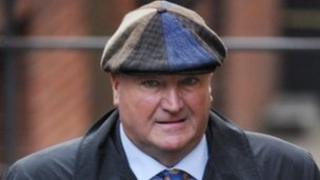 RMT union leader Bob Crow has told an inquiry into press standards the union has been the victim of "harassment" by journalists for the past 10 years.
Mr Crow said he understood why the media might object to strikes - but said it was not acceptable "to infringe on RMT staff's personal lives".
He had been followed and shouted at in the street, the Leveson Inquiry heard.
He had also been watched by private investigator Derek Webb on behalf of News International, Mr Crow said.
Describing a story in the Mail on Sunday in February 2003 - when Mr Crow was photographed being given a lift on his personal assistant's scooter when the Central Line on the Underground was closed - he said the timing of it was "strange".
"It was strange as I would normally get a bus; it was strange that at that moment a photographer was there to take a picture of me on a scooter," he said.
He said there was no proof his phone was hacked to get the information, but he was told by police that they are investigating whether his phone was targeted by a private investigator on behalf of a newspaper.
The information on the identification of the scooter rider was blagged from the DVLA and given to the Mail on Sunday by private investigator Steve Whittamore, the hearing at the Royal Courts of Justice in London heard.
Mr Crow also told the inquiry a Sun newspaper-branded bus blocked him on his way to work during a strike.
He said a man with a microphone stood on his feet and said: "What's it like not to get to go to work? You stopped people going to work this week so get a taste of your own medicine."
'Foolish'
The Rail, Maritime and Transport Workers general secretary also described being put under surveillance in the Caribbean.
"Our trade union over the last 10 to 12 years has been the victim of victimisation, harassment... for standing up for good honest working men and working women," he said.
The inquiry also heard from the News of the World's former investigations editor, Mazher Mahmood, who admitted that he once "foolishly" changed electronic records to cover up a mistake in his reporting.
Mr Mahmood resigned from the Sunday Times in 1989 after executives discovered he had tampered with a file in the newspaper's computer room, the hearing was told. He gave evidence to the inquiry in December but had been recalled for further questioning.
He told the hearing: "I acknowledge it was wrong. I was young, I was naive, it was a foolish thing to do, I acknowledge that."
Mr Mahmood, now back at the Sunday Times, is known for his "fake sheikh" disguise while reporting undercover and gave evidence off-camera to protect his identity.
He was behind the News of the World story that resulted in three Pakistan Test cricketers and a corrupt sports agent being jailed in November for spot-fixing.
'Human error'
Press Association (PA) editor Jonathan Grun appeared at the inquiry later on Wednesday, and praised the Press Complaints Commission's "really worthwhile" work handling requests for corrections and apologies.
But it would need wider powers in the future if it was to deal more with "monitoring editorial standards", he said.
"I think the flaw in the PCC's operations is actually contained in its name - it's just involved in resolving complaints."
Mr Grun described PA's key principles to be "fast, fair and accurate", and said: "The bond of trust that we have with our customers means that they have to be able to use anything that we provide them without making any further checks."
Asked about a mistake in which PA had identified the wrong person as defendant in a court case, Mr Grun said this "catastrophic example of human error" had led a reporter with decades of experience to resign because "they were so ashamed at what they had done".
"It's probably the gravest editorial error that the PA has made in the whole time that I've been there," Mr Grun said.
He added: "When you edit you bear a thousand tiny scars from all the mistakes that you've made; this particular scar remains very rare and very sore."
On Wednesday afternoon, record producer and convicted sex offender Jonathan King appeared to request "core participant" status in the next phase of the inquiry.
Insisting he was the victim of a miscarriage of justice, King said his case could shed light on the relationship between the press and police.
The Leveson Inquiry was set up by Prime Minister David Cameron in July 2011 amid new revelations of phone hacking at the now-defunct News of the World.
The first phase is examining the practices and ethics of the press. A second phase of the inquiry, after a police investigation into phone hacking at the News of the World is complete, will focus on unlawful conduct by the press and the police's initial hacking investigation.