London 2012: Olympic watchdog member quits over Dow links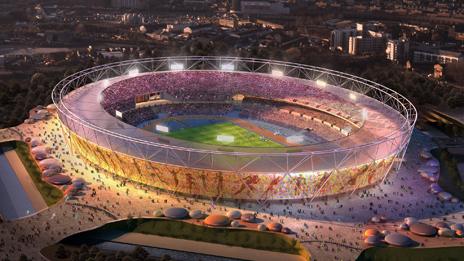 A commissioner for a body monitoring the London 2012 Olympics has resigned over its links with Dow Chemical.
Meredith Alexander said she was quitting the Commission for a Sustainable London 2012.
Some politicians in the UK and India say Dow is liable for the ongoing fallout of the 1984 chemical gas leak in Bhopal, which campaigners say has killed some 25,000 people.
Dow - a top-tier Olympic sponsor until 2020 - denies any liability.
As well as its sponsorship deal, the US-based company is funding a £7m fabric wrap for the Olympic stadium in east London, which will be 900m (0.56 miles) long and 20m (67ft) high.
'Morality before finances'
Ms Alexander, who works for the charity ActionAid, said she was resigning as a commissioner - a voluntary position working 20 days a year - to bring attention to the "toxic legacy" of Bhopal.
She told the BBC's Newsnight why she was resigning: "I feel I was part of a lobby which legitimised Dow's claims that it had no responsibility for Bhopal.
"This is an iconic case. It's one of the worst abuses of human rights in my generation and I just could not stand idly by."
She was appointed to the commission in 2010 by the Greater London Assembly, in a move sanctioned by Mayor of London Boris Johnson.
Mr Johnson said he had received a letter from Ms Alexander about the resignation late on Wednesday .
He told the BBC: "The key point is the committee, the Commission for Sustainable London, they did look at this contract, they did look at Dow and they understood all the implications and Sean McCarthy, the chairman, went over it.
"So it's obviously perplexing and sad that Meredith Alexander has taken the decision she has and I hope very much that she could be made to think again.
"But obviously we would want to talk to her and get to the bottom of ...as to why this has surfaced now when the commission actually gave their approval for the sponsorship."
Newsnight presenter Jeremy Paxman pointed out she was one of a dozen people on the commission and asked her if any others were planning to resign over the issue.
She said she did not know about her colleagues but she was resigning "on principle".
Ms Alexander said: "To be part of a body that publicly endorsed Dow is untenable and unacceptable."
"When complaints were received, the commission basically took the Dow company line that Dow had done what they should for the victims," she said.
"I don't agree, and morality should come before finances. There's no excuse for just accepting that position and not looking at whether they should be involved properly."
Ms Alexander added she felt Dow's involvement tainted the Games and that she had tried, and failed, to get the position changed.
"Victims' families will be hurt by this decision and I feel I have to stand up and be counted on this," she said.
Indian NGOs working with the survivors of the gas leak have applauded Ms Alexander's decision.
"By speaking the truth so boldly Meredith has nailed Dow Chemical's lies that the London Olympic Committee and its Chairman Lord Coe believed and propagated till recently. We hope this will make the organisers dump Dow Chemical as a sponsor of the London Games," Rashida Bee, president of the Bhopal Gas Women's Workers group said.
It merged with the Union Carbide Corporation, whose subsidiary Union Carbide India ran the Bhopal pesticide plant - in 1999.
Dow has said Union Carbide's £288m ($470m) settlement for those affected by the tragedy - which was paid in 1989 - is fair and final.
George Hamilton, the American firm's Vice-President for Dow Olympic Operations, said the Indian government had been directed to take out an insurance policy to cover any further claims and that from 1998 it undertook responsibility to clean up the now abandoned site, which environmentalists say is still poisonous.
But in 2010 the Indian attorney general's office filed a case to the Supreme Court seeking to more than double to £700m the compensation paid in 1989.
Mr Hamilton said: "We're not going to let someone bully us into taking responsibility for something that is not our issue."
In a letter to IOC President Jacques Rogge, Mr Malhotra said: "A false campaign has been launched by the Dow Chemical saying that matter has been settled. It is not correct.
"The case is still pending in the court and no final compensation has been made."
Related Internet Links
The BBC is not responsible for the content of external sites.