Children to create Queen's Diamond Jubilee menu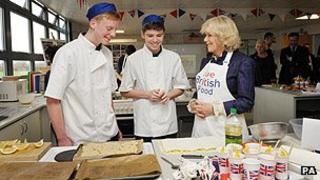 Schoolchildren across the UK are being invited to come up with ideas for food to be served at Buckingham Palace to mark the Queen's Diamond Jubilee.
The Duchess of Cornwall launched the British Food Fortnight competition on a visit to a school in Swindon.
Pupils from the top four winning schools will see their ideas made into canapes by royal chef Mark Flanagan.
The students will help serve them at the reception at the palace attended by the Queen and the Duchess.
The competition, which was the idea of the Duchess, has some precedent, as in 1953 coronation chicken was invented by Constance Spry and served at the Queen's Coronation lunch.
When asked what she thought the 85-year-old monarch might like, the duchess said: "I think she likes things very plain, nothing too complicated."
Asked about her own cooking skills, she replied: "I cook, let's say that. I don't dare go on about my roast chicken, but I know that's the safest thing I can cook."
The Cook for the Queen competition is open to 10-15 year olds in all primary and secondary schools in the UK.
British Food Fortnight is in its 11th year, and this year as a one-off it has been renamed Love British Food 2012 and moved to coincide with the Olympics.