Foreign lorries face £10 daily charge on UK roads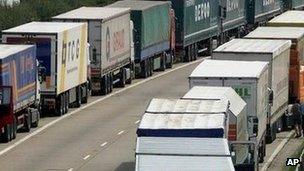 Foreign lorry drivers could pay as much as £10 a day to use UK roads, the government has announced.
UK haulage firms already have to pay to make journeys in other European Union countries, including France.
Transport Minister Mike Penning said charging overseas companies would create a "fairer" situation.
But opponents fear the change could lead the way to road-user charging for all UK car, van and lorry drivers - not just foreign heavy goods vehicles.
The Department for Transport has put its plans out to consultation.
Mr Penning said: "Each year there are around 1.5 million trips to the UK by foreign-registered lorries - but none of them pay to use our roads, leaving UK businesses and taxpayers to foot the bill.
"A lorry road user charge would ensure that all hauliers who use our roads are contributing to their cost, regardless of where they are from - helping UK hauliers to get a fairer deal and increasing employment and promoting growth in the UK."
Drivers of lorries weighing more than 38 tonnes would pay £10 a day, or £1,000 a year.
Vehicles entering the country would be monitored via cameras and roadside checks, with drivers who failed to comply with charges facing one-the-spot fines.
By law, a road user payment scheme cannot discriminate between UK-registered vehicles and those from elsewhere in the EU, meaning both UK and foreign-registered lorries would have to pay the daily charge.
But ministers are proposing to compensate British logistics companies for the charge, possibly though measures which would allow them to reclaim the fee against their vehicle excise duty costs.
However, motoring groups including the AA and RAC have raised concerns that if the system succeeds, it could be extended to all UK road users, bringing in Continental-style toll-booth charging which would penalise those making lots of journeys.
Then Chancellor Gordon Brown pledged to introduce charges for overseas lorries in the year 2000, but it was decided that the expense of setting up a new system was too great.
The government's consultation ends on 18 April.