Newspaper review: Papers focus on benefits defeat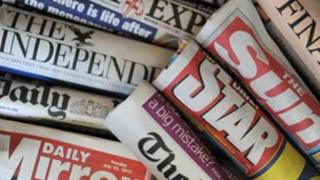 The government's defeat in the House of Lords over its proposed cap on welfare benefits is the lead for the Times, the Guardian and the Daily Mail.
The Mail rounds on the peers who voted against the measure, with the headline: "Insult to every working family".
In its leader column, it asks: "When will those hand-wringing bishops and left-leaning peers consider those who pay for these lavish handouts?"
The Sun accuses the bishops of "meddling" in politics again.
Wealth creation
Business Secretary Vince Cable's steps to curb excessive boardroom pay make the lead for the Financial Times.
He has done his best to reconcile two objectives - resolving the political problem of rising executive pay without damaging wealth creation, it says.
In the Guardian, George Monbiot says the "feeble" measures will do nothing to address executive pay.
The Daily Mirror says Mr Cable must know he has come up with a "wet lettuce leaf of a policy".
Economic lifeline
The Guardian says the European Union's move to impose an oil embargo on Iran sets a potential time-bomb ticking.
The Financial Times says the EU is stepping on the lifeline of the Iranian economy - the means by which Tehran earns badly needed foreign currency.
The Daily Telegraph says the onus is on Iran to prove that its nuclear intentions are entirely peaceful.
The Daily Mirror says motorists will watch with dread as an oil embargo threatens to push up pump prices.
Alcohol prices
The Daily Express has a topic familiar to its front pages - Alzheimer's.
It says a study suggests that reading or doing puzzles regularly could be the simplest way of staving it off.
Finally, supermarket prices for alcohol were so low in the run-up to Christmas that the owners of corner shops were buying stock for their own shelves.
According to the Daily Mail, small businesses said it was cheaper to buy from a supermarket than go to their usual wholesaler or cash-and-carry.