Drugs mule terms cut in new sentencing guidelines
By Dominic Casciani
Home affairs correspondent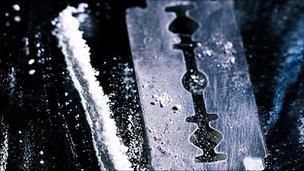 People who smuggle drugs will face more lenient sentences if they have been exploited, under new guidelines.
The change in approach on "drug mules" forms part of new comprehensive rules on drugs offences from the Sentencing Council for England and Wales.
The council said judges should distinguish between those who have been exploited by gangs and criminals heavily involved in the drugs trade.
But it said large-scale drugs producers should expect longer jail terms.
The council's role is to provide judges and magistrates with a set of broad guidelines so that sentencing is more consistent across England and Wales.
Last year the council carried out research into 12 women convicted of drug mule offences, all of whom received sentences of between 15 months and 15 years.
The majority of the women said they did not know that they had been carrying drugs when they arrived in the UK, although some admitted being suspicious. In most cases they had carried the drugs for someone they trusted or feared what would happen if they did not do so.
Under the new guideline, which comes into force on 27 February, the starting point for sentencing drug mules guilty of carrying crack, heroin and cocaine will be six years, before judges take into account aggravating and mitigating factors.
Those found guilty of a much higher level of involvement in the drugs trade will face longer sentences.
Those coerced into smuggling small amounts of Class C drugs, such as ketamine, could be given a community order.
The councils said there would be no change in sentences for the key offences of possession and supply, but dealers who provide drugs to under-18s should receive longer sentences. Class A drug street dealers should expect a starting point of four and a half years.
Lord Justice Hughes, deputy chairman of the Sentencing Council, said: "Drug offending has to be taken seriously. Drug abuse underlies a huge volume of acquisitive and violent crime and dealing can blight communities.
"Offending and offenders vary widely so we have developed this guideline to ensure there is effective guidance for sentencers and clear information for victims, witnesses and the public on how drug offenders are sentenced.
"This guideline reinforces current sentencing practice. Drug dealers can expect substantial jail sentences."
The guidelines, which applies to magistrates and the crown courts, covers the most common drugs offences - importing, production, supply, possession and allowing a premises to be used for these offences.
Chief Constable Tim Hollis, in charge of drugs policy for the Association of Chief Police Officers, said: "The Council has clearly given a good deal of consideration to the new guidelines and has produced a document which provides the police and our criminal justice partners with consistent guidance yet still provides the courts with flexibility to deal with each case on its own merits where appropriate."
Juliet Lyon, director of the Prison Reform Trust campaign group, called for a review of all sentences given to drug mules, given the new guidance.
Related Internet Links
The BBC is not responsible for the content of external sites.