Airport attack suspect to be extradited to Spain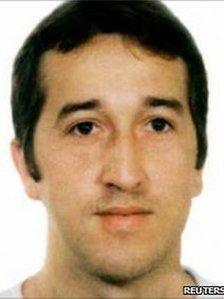 An alleged member of Basque separatist group Eta can be extradited to Spain over claims he plotted to target an airport with grenades, a UK judge says.
Eneko Gogeaskoetxea Arronategui, who was arrested last July while living in Cambridge, faces eight arrest warrants alleging a series of offences in Spain.
But a judge at Westminster Magistrates' Court discharged the 44-year-old from a charge of plotting to kill Spanish King Juan Carlos II in Bilbao in 1997.
His lawyer says he plans to appeal.
The arrest warrants include a series of charges, such as placing grenade launchers aimed at Madrid Barajas Airport and a police station in Spain.
The court heard the suspect was alleged to have become a member of Eta in 1996 and then to have become part of a plan to kill the king of Spain, who was due to attend the Guggenheim Museum in Bilbao on 18 October 1997.
Deputy Senior District Judge Daphne Wickham accepted a defence submission that the assassination charge was unsustainable in Spanish law.
The judge also discharged the Spanish national from another allegation of organised and armed robbery.
She told the court: "Save for two parts of the Extradition Warrant Three, I am satisfied that all these warrants are valid.
"There are no bars to this defendant's extradition."
The court was told the alleged offences detailed his activities up to five days before the king's scheduled visit.
Mr Gogeaskoetxea and others were stopped by police while filling garden window boxes with explosives, the court heard at an earlier hearing.
During the course of their getaway, a police officer, Jose Maria Aguirre Larraona, was shot and killed, Julian Knowles QC, for the Spanish authorities, told the court.
Mr Gogeaskoetxea, a computer programme designer, was arrested after the Spanish interior ministry said police were tipped off when a Spanish national recognised him at a sports club in Cambridge.