Businessman Asil Nadir stole nearly £150m, court hears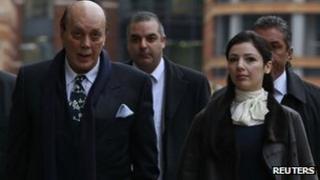 Former business tycoon Asil Nadir stole nearly £150m from his business empire for himself, his family and friends, the Old Bailey has heard.
The money went through a complex series of transactions, including being transferred to a bank he owned in northern Cyprus, it was alleged.
Mr Nadir was said to have stolen the money from Polly Peck International (PPI) between 1987 and 1990.
Mr Nadir, 70, denies 13 sample counts alleging he stole £33.1m and $2.5m.
The jury was told that Mr Nadir, of Mayfair, central London, had abused his position as chairman and chief executive of PPI to steal from the company.
His thefts were "very extensive" and the jury was told that they could use "the whole picture in deciding the question of his dishonesty" - referring to 64 fraudulent transactions the prosecution alleges took place. These totalled £146m and $6.4m.
The sterling was taken from two principal London bank accounts, and American dollars were taken from a separate account.
Philip Shears QC, prosecuting, told the court: "He was a man who wielded very considerable power over its operations and management, and that of its subsidiaries, particularly in northern Cyprus.
"He abused that power and helped himself to tens of millions of pounds of PPI's money.
"As a director of PPI and a signatory on the account, he was entitled to instruct PPI's bankers to transfer funds.
"However, he would have no authority to transfer or authorise funds from PPI for his own personal benefit or that of his family or associates.
"We say he caused the transfer from the three PPI accounts which he dishonestly routed away to benefit himself, his family or associates."
Debt repayments
The money was often stolen to pay Mr Nadir's debts, the prosecution lawyer told the jury.
These included paying tax owed to the Inland Revenue, buying a Mercedes car for his ex-wife, money for shares in companies he wanted to buy, money for his son, and money towards "costly properties" bought in various company names connected to him.
He was also alleged to have used his mother's bank account "to receive stolen money", and companies nominally owned by her received £7.5m, the court was told.
Mr Nadir was due to stand trial in 1993, but in May that year "fled the country back to northern Cyprus, thus leaving the jurisdiction only to return in August 2010", said Mr Shears.
'Dominant force'
There were concerns among board members about the flow of money to Turkish or northern Cyprus subsidiaries, but Mr Nadir assured them that PPI was "obtaining large interest earnings" on it.
When the board approved a new system of financial controls in 1987, in a manual produced by financial controller Vi Jensen, the manual was never forwarded to the Turkish or northern Cypriot subsidiaries. Ms Jensen was dismissed in 1989, and the court was told that this could partly be due to her wanting to improve the financial reporting.
"We suggest the evidence will establish that Asil Nadir was the dominant force in PPI. He maintained a direct control over its operations, directing its affairs in an autocratic manner and refusing to tolerate rival sources of power in management or to accept constraints upon his freedom of action," he said.
The case before Mr Justice Holroyde is due to last at least four months.