Aurora Borealis displays predicted for north of UK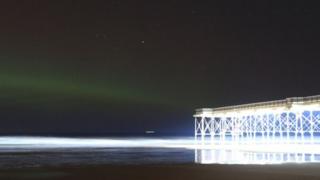 Skies above parts of the UK are predicted to be lit up by the Aurora Borealis following activity from the sun.
The Northern Lights were seen on Sunday in Scotland, the north-east of England, Northern Ireland and also in Ireland.
The solar activity is predicted to occur again on Monday and Tuesday.
Adrian West, who runs the Meteorwatch website, says the lights could move further south if the solar storm intensifies.
The aurora are caused when coronal mass ejections, which are eruptions from the sun, throw matter towards the Earth.
This matter, made up of physical particles and also solar radiation, interacts with the Earth's magnetic field - known as its magnetosphere - causing the matter to glow and which makes lights seen in the skies.
Readers have contacted the BBC News website with their photographs of the visual phenomenon, which is also known as the Northern Lights.
Solar activity
Mr West, who charted the aurora on Sunday night through his twitter account @VirtualAstro, says the activity that evening measured 5.67 on the Kp index, which measures the scale of intensity of auroras.
"The higher the scale, the more likely that the lights will be seen further south in the UK," he said.
"There are predictions, including from NASA, that the solar activity over the next couple of days will create more aurora. If the solar activity intensifies, the lights could be seen in the Midlands, and if it's particularly high it could be seen in the south of the UK.
"But it's space weather, and just like earth weather it's very unpredictable."
Mr West said while the rest of the UK is reliant on increased solar activity to generate the Northern Lights in their areas, the same places which saw the lights on Sunday, which included to the south of Edinburgh and the Northumberland coast, could well see them again on Monday night.
The lights can be seen for just a matter of minutes or up to an entire evening.