UK woman crosses Antarctica solo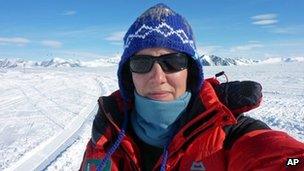 British explorer Felicity Aston has reached Antarctica's Hercules Inlet, becoming the first woman to cross the continent alone.
"Congratulations to the 1st female to traverse Antarctica SOLO.V proud," her UK support team tweeted late on Sunday.
AP news agency reported Ms Aston, 33, was also the first person to make the crossing using only her own strength to ski the 1,084 miles (1,744km).
An expedition spokeswoman confirmed she had crossed Antarctica.
The crossing took Ms Aston 59 days, beginning at Leverett Glacier.
The spokeswoman said Ms Aston arrived at Hercules Inlet at around 17:00 Chilean time on Sunday (20:00 GMT). Weather permitting she would be flown to Union Glacier base camp and from there to Chile, eventually returning to the UK on 31 January, she said.
Tweeting from her @felicity_aston account, Ms Aston, from Kent, said she was sitting in her tent waiting to be picked up.
"I've been promised red wine and a hot shower," she wrote. Later she added: "Foiled by bad weather yet again! No plane tonight but I have my last Beef and Ale Stew to enjoy for my final evening alone - yum!"
"It's all a little bit overwhelming after days and days of counting the time and the distance to get here. I seem to have got here all of a rush all of a sudden and I don't really feel prepared for it. I mean it feels amazing to be finished and yet overwhelmingly sad that it's over at the same time," she said.
Ms Aston said her journey had been "an amazing privilege".
Related Internet Links
The BBC is not responsible for the content of external sites.