A third of councils charging for fitness classes in parks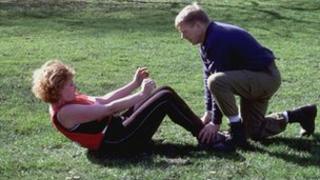 A BBC investigation has discovered that more than a third of local authorities in the UK charge for fitness classes in their public parks.
A survey by Radio 4's You and Yours found more than 40% charged personal trainers a fee to run exercise sessions in their parks.
In north-east England, 72% of councils charge, while only 14% in Wales charge.
The Register of Exercise Professionals (REPs) says it is disappointed with the findings.
Jean-Ann Marnoch from REPs said many members had complained that park charges were too high:
"One member said they wouldn't be able to justify the £350 cost to clients they train in the park.
"So what then? Do we tell clients to forget a healthy lifestyle and go back to sitting in a chair all day? That's certainly not what we want."
Nine out of 10 councils responded to the survey, a total of 354 local authorities.
Of them, 150 confirmed that personal trainers had to pay a fee to run exercise sessions in their parks.
Value for money
Paul Edgar, a qualified fitness instructor, said it costs him £1,000 to work across four parks in Newcastle-upon-Tyne and Gateshead.
He does not think they represent value for money.
"The lighting is poor - parts of the park are totally dark in the winter. There's glass sometimes, there's rubbish I have to clear away.
"I'm trying to do a positive thing… but I'm getting penalised for that," he said.
But Tony McKenna, head of leisure services at Newcastle City Council, defended the charges.
He said the council had a duty of care to everyone who used parks.
"We just think we've got to take a sensible approach. We've developed the charge with the personal trainers to make sure it's affordable and equitable. We don't think it's a particularly high charge."
But Ms Marnoch is concerned that these charges will be passed on to clients and make exercise less affordable.
She argues that classes in parks are often a cheaper way to achieve an active lifestyle.
You and Yours is on BBC Radio 4 weekdays at midday, or you can listen again on the iPlayer.