Leveson Inquiry evidence can be anonymous, judges rule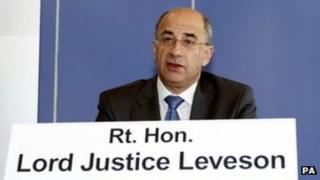 Some journalists can remain anonymous when giving evidence to the Leveson Inquiry into press standards, three senior judges have ruled.
They dismissed an action brought by the publisher of the Daily Mail.
Associated Newspapers had said it feared its reputation could be tarred by evidence which could not be fully challenged and may launch an appeal.
But the judges said it was not for the court to "micromanage the conduct" of the inquiry by its chairman.
After the hearing, the company said it was "disappointed" at the decision.
Lord Justice Leveson had agreed in principle to hear from journalists who said they feared for their jobs if they were to be named.
In November, he said: "It is clear that the picture which they wish to paint is not entirely consistent with the picture that editors and proprietors have painted of their papers and they fear for their employment if what they say can be attributed to them."
But Associated Newspapers, which also publishes the Mail on Sunday, sought a judicial review of the decision at London's High Court before Lord Justice Toulson, Mr Justice Sweeney and Mrs Justice Sharp.
Lawyers representing Lord Justice Leveson, the National Union of Journalists (NUJ) and celebrities who have given evidence to the inquiry opposed the application.
Scrutiny
During the hearing, Mark Warby QC, for Associated Newspapers, questioned whether anonymous evidence would be fair.
He told the judges: "The concern is about untested evidence that will tend to tar Associated Newspapers with a broad brush."
In written arguments, he suggested that principles of fairness and open justice were at risk.
"The essence of the challenge is that this is not a sufficiently weighty reason to outweigh the general principles of fairness and open justice," he said.
"Testing and rebuttal cannot take place when the evidence is given anonymously."
Robert Jay QC, for Lord Justice Leveson, said Associated Newspapers' application for judicial review was premature.
"On analysis, the chairman has determined in principle that his inquiry is prepared to receive anonymous evidence (as opposed to making a determination in principle that it would not)," said Mr Jay, in written arguments.
"The chairman has not determined whether such evidence should be received in any individual case: indeed, he has made it plain that before making such a determination the application would need to be accorded anxious scrutiny."
Further questions
John Hendy QC, for the NUJ, said the journalists feared career prospects would be harmed if employers knew who they were.
Mr Hendy said it was in the public interest for such anonymous testimony to be allowed and told judges: "It is vital (Lord Justice Leveson) does have a balanced picture of what happens in newsrooms."
After the hearing Associated Newspapers said in a statement: "It is our view that the decision of the Leveson Inquiry to admit anonymous evidence is unfair to all newspapers as it allows unsubstantiated allegations to be made without it being clear which papers they refer to and without it being possible for such allegations to be challenged or investigated.
"Whilst we welcome the fact that the Divisional Court acknowledges that anonymous evidence gives rise to a risk of prejudice to newspaper organisations, we are disappointed by the decision and are considering an appeal."
On Monday, senior television executives, including BBC director general Mark Thompson, BBC Trust chairman Lord Patten, Channel 4 News editor Jim Gray and ITN head of compliance John Battle, will give evidence to the inquiry.
They will be asked about how they are governed by broadcasting watchdog Ofcom, which has stricter rules than the Press Complaints Commission.
Further testimony next week will come from bloggers, including the founder of celebrity gossip website Popbitch, and top managers from internet giants Google and Facebook.
Meanwhile, Mazher Mahmood - the News of the World's former investigations editor best known for his "fake sheikh" disguise - has been recalled to answer further questions.
The Leveson Inquiry was set up by Prime Minister David Cameron in July 2011 amid new revelations of phone hacking at the now-defunct News of the World.
The first phase is examining the practices and ethics of the press. A second phase of the inquiry, after a police investigation into phone hacking at the News of the World is complete, will focus on unlawful conduct by the press and the police's initial hacking investigation.