Higher car insurance premiums for unemployed criticised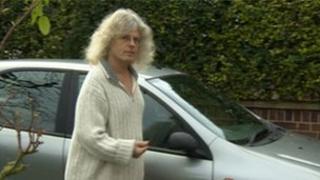 Insurers are being criticised for charging jobless people more for car insurance, with UK unemployment at its highest since 1996.
Research with three brokers for the BBC found that car insurance premiums averaged 30% more for those out of work but could be up to 63% higher.
The Association of British Insurers (ABI) said data showed unemployment was an additional risk for insurers.
Martin Lewis of MoneySavingExpert.com said charging more was "scandalous".
The BBC asked three brokers - via the British Insurance Brokers' Association (BIBA) - to work out a car insurance premium for an office worker - who, in the first instance, was employed, and in the second, unemployed.
Broker A's best deal was from Aviva; the premium was 23% higher for being unemployed. The best deals found by Broker B - with RSA - saw a 31% increase. Broker C compared the lowest premiums from two different companies - finding a 63% difference.
When seeking insurance quotes for a wider range of examples of jobless people, using different postcode areas and varying employment histories, the increase - compared to a person in a job - averaged out at 30%.
Unemployed Cambridge architect Chris Palmer told the BBC that when he renewed his car insurance after being made redundant last November, his insurer increased his premium by £98 - a 40% rise.
"It is apparently considered that the unemployed will use their cars more to travel to more locations to seek work. If one is retired, however, the premium remains the same," he said.
"I would think that retired persons are likely to run their cars far more for recreational reasons; it is in any event, outright discrimination against an already disadvantaged section of society."
Mr Palmer said he subsequently negotiated a lesser increase with his insurer - £50 - after finding a better deal elsewhere.
'Minefield'
Graeme Trudgill, from the British Insurance Brokers' Association, said unemployed people were viewed as less likely to maintain their vehicles and as higher credit risks.
He said insurers might also have concerns over what their vehicles would be used for and whether they would be used more often.
"Our insurance brokers tell us that when they look around, they see some insurance companies don't charge anything if you lose your job, whereas others can charge up to 63% more," he said.
"The average is probably about 30% additional when you lose your job. So it's a bit of a minefield."
AA Insurance said unemployed people were more likely to put in a claim. Spokesman Ian Crowder told the BBC different insurers treated individuals in different ways, but that most would increase their premiums for customers who lost their jobs.
"In the case of the AA, which is a broker, it has negotiated with its panel not to increase premiums immediately in order to allow customers to find a new job," he said.
"Unemployed people are likely to be distracted because of their circumstances, likely to be driving along unfamiliar roads and attempting to find specific addresses in search of job interviews."
Fraudulent claims
Mr Crowder said the long-term unemployed were more likely to be claimants than those just out of work, and their financial circumstances were seen as more likely to lead them to make fraudulent claims.
The ABI said employment status was one of many factors used to set premiums.
"Insurers use actuarial data to calculate the additional risk that may be associated with being part-time employed, full-time employed, student, retired or unemployed," it said in a statement.
"Many insurers have reported there is an additional risk associated with being unemployed. We understand that this can cause difficulties for people, but it is a quantified factor supported by evidence."
Actuarial science is a method of using mathematics and statistics to calculate risk.
ABI advised customers to shop around and think of other ways of reducing their premiums, such as keeping their mileage down.
But Mr Lewis said premiums should not be increased for those out of work.
"Car insurance shouldn't be going up at the moment when you can least afford it," he said.
"The person hasn't changed, their driving hasn't changed, this is the curse of mass risk tables."
'Line of least resistance'
Transport Select Committee chairwoman Louise Ellman rejected the claim that unemployed people were more likely to put in fraudulent claims.
"Escalating claims resulting in cold calling from claims management companies are pushing up the cost of premiums and I have not seen any evidence that these are disproportionately from unemployed people," she said.
On Wednesday, the Office for National Statistics said unemployment had risen to its highest rate since January 1996, at 8.4%.