Queen to address Parliament joint session for jubilee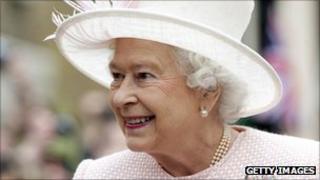 The Queen will make a personal address to MPs and peers as part of her Diamond Jubilee celebrations, the leader of the Commons has announced.
Sir George Young said the Queen would address a joint session of Parliament in Westminster Hall on 20 March.
The monarch made similar addresses to mark her Silver Jubilee in 1977 and her Golden Jubilee in 2002.
Meanwhile, Prince Harry is to travel to Brazil in March after a jubilee trip to Jamaica, Belize and The Bahamas.
It is his first official tour on behalf of the Queen and he has not visited the countries on the itinerary before, either officially or privately.
St James's Palace said the prince would be in Brazil in support of his charities and the UK government.
Foreign Secretary William Hague said Harry would attend the Rio de Janeiro launch of the Great campaign, which promotes the UK abroad on the back of London 2012 and the Diamond Jubilee.
During her 60-year reign the Queen has made a number of speeches to mark significant anniversaries.
Her first speech of this kind was made in 1965 to commemorate the 700th anniversary of the Parliament of Simon de Montfort.
Sir George said politicians from both Houses of Parliament would mark the Queen's 60-year reign.
He told the Commons: "An early celebration of this magnificent anniversary will be the attendance of the two Houses on Her Majesty in Westminster Hall for the presentation of humble addresses on the morning of Tuesday March 20.
"On a day before then... there will be a debate on a motion that a humble address be presented to Her Majesty on the occasion of the 60th anniversary of her accession to the throne.
"I hope the House joins me in looking forward to an important and happy event."
Buckingham Palace has already laid out plans for the Diamond Jubilee, with the Queen and the Duke of Edinburgh intending to travel as widely as possible across the UK.
Other members of the Royal Family will visit the 15 other countries where the Queen is head of state, as well as some other Commonwealth nations.
On Wednesday organisers unveiled plans for a 1,000-boat flotilla, reflecting the UK's maritime heritage, to travel along the Thames from Putney to Tower Bridge on 3 June.