London 2012: Olympics firearms plan outlined by Heathrow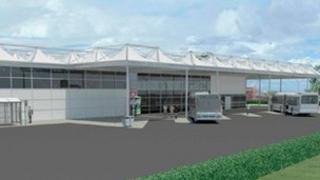 Heathrow Airport has outlined how it will cope with the "massive challenge" of the Olympic Games, including handling hundreds of competitors' guns.
It says almost 1,000 firearms will be collected on arrival, secured and transported to the shooting venue.
Some 80% of Olympics and Paralympics visitors are due at the host airport.
With the day after the Olympics closes - 13 August - expected to be Heathrow's busiest day ever, a special temporary departures terminal is being built.
The UK Border Agency (UKBA) had set up a special customs system to deal with the hundreds of firearms expected to be brought in by Games athletes, Heathrow said.
The Olympics will see 780 firearms brought in by 390 athletes, and the Paralympics will have 140 athletes with 200 firearms.
The shooting competition venue is at the Royal Artillery Barracks on the edge of Woolwich Common, in south-east London.
A Heathrow preparations document said: "When the competitors arrive, firearms will be collected and transported by approved handler to airside Locog (the London 2012 organisers) vehicles where they will be secured and subsequently transported to the Royal Artillery Barracks (RAB).
"On the day of issue of firearms to athletes, UKBA will perform necessary checks against required paperwork within the armoury at RAB."
'Warm welcome'
Airport owner BAA said it was spending more than £20m on the Games, none of which was public funds.
In addition to the temporary terminal, the money will be spent on building lifts to handle Paralympians' wheelchairs, providing extra media facilities, and recruiting and training 1,000 volunteers to meet and greet passengers arriving for the Games.
The airport's head of Olympic and Paralympic planning, Nick Cole, said the Games were a "unique operational task and a massive challenge".
"Every part of the airport is working together to ensure we can give the athletes a warm welcome and ensure all passengers enjoy the atmosphere," he said.
Planning was also going on to ensure a normal good service for other passengers during the summer holiday period, the preparations document added.
Heathrow said it did not believe the Games presented a higher security risk but it was recruiting 250 security staff "in part to give us more resilience during this summer".
It said UKBA would be able to use dedicated immigration lanes for the arrival of accredited Games Family members, athletes, coaches, officials, accredited media and other individuals.
The agency is building a "pool of volunteers to work at Heathrow to ensure an efficient border control process during the peak arrivals period".
Check-in will be offered at the Olympic and Paralympic Village for athletes leaving the Games, with their bags collected a day ahead of departure. There will also be special areas for coaches carrying Olympic athletes outside Heathrow's terminals.
Heathrow says 27 June to 1 October will be its critical period - allowing time either side of the start of the Olympics and the end of the later Paralympic Games.
On its busiest expected days - 26 July and 13 August - it predicted passenger levels would increase from an estimated 95,000 on a usual day by 45% to 138,000.
To ease pressure on Heathrow, charter flights and private jets will use other airports such as Stansted.
Excess baggage
The Games Terminal will operate on 13-15 August, and is expected to divert up to 10,100 people and 37,900 bags from other terminals.
Construction of the terminal will begin in February in an area currently used for staff car parking on the south side of the airport.
No flights will leave from there, with athletes bussed to departure lounges.
Heathrow is expecting a 35% increase in baggage on 26 July and 13 August, with around 15% of the 200,000 items expected on those days likely to be oversized luggage.
The airport said it would have "insufficient capacity on carousels and floors in the baggage reclaim hall for waiting passengers".
Measures to combat this would include standing bags up on carousels and removing some luggage from carousels to another area before customs control, it said.
The flow of passengers into the baggage claim area could also be controlled.
Heathrow will test its procedures and the airport has 50 full-time staff working on its Olympic programme. It said that number was likely to "increase significantly" as the Games approached.