MPs call for new gang murder law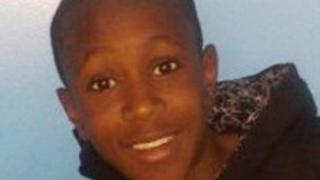 A new, less complex law on gang-related killings is needed to ensure justice for victims and defendants, MPs say.
The Commons Justice Select Committee said clearer law on "joint enterprise" in England and Wales would cut appeals.
Under joint enterprise, groups or gangs can be charged with murder even if just one person delivered the fatal blow.
Ahead of any legislation, the director of public prosecutions has agreed to issue guidelines on the level of involvement needed for a murder charge.
The MPs' committee said the law surrounding gang murder cases was now so complicated that juries "may find it impossible to understand how to reach the right verdict".
Its report said a new law was needed to ensure justice and end the high number of appeals against convictions.
In the meantime prosecutors should urgently be given new guidance in joint enterprise cases, particularly those involving gang-related killings, the MPs said, to help clarify the situation before a new law can be brought in.
'Own actions only'
The legal principle of joint enterprise - through which two men were convicted earlier this month of the 1993 murder of black teenager Stephen Lawrence - means that entire groups or gangs can be charged with murder, even if only one person carried out the killing.
In December, five teenagers were given sentences of detention for killing 15-year-old Zac Olumegbon, who was stabbed to death as he arrived at school in West Norwood, south London, in July 2010.
Speaking after the case, Det Ch Insp John McFarlane said: "This case must act as a deterrent to other young people who think they will not be prosecuted or go to prison just because they did not deliver the fatal blow.
"The law on joint enterprise is clear and unforgiving - if you are with the knifeman in a murder case you too could be found guilty and sent to prison."
Jordan Towers was jailed for life in 2007 after being convicted of murder under joint enterprise.
He was one of three youths involved when young father Kevin Johnson was stabbed to death on Wearside, but Towers's sister says he thought he was just witnessing a fight.
"I think [the law] should be tightened up for secondary parties in spontaneous joint enterprises," Ashleigh Towers told BBC Breakfast.
"You can't foresee a spontaneous situation arising - so you shouldn't be held responsible for that situation, if you don't play any part in it.
"I think everybody should be held for their own actions only, not somebody else's actions."
But John Johnson, father of the murdered man, said: "They acted as a group, they were all carrying knives - they knew what they were doing... although there was only one who actually stabbed our Kevin.
"The three them together out that night, they all got the bravado from each other. If there was only one out probably nothing would have happened."
Joint Enterprise - Not Guilty By Association (JENGBA) is a campaign group set up to highlight cases where joint enterprise law has been applied.
Its founder Gloria Morrison told the BBC: "The law [as it stands] isn't actually targeting gangs, it is targeting anyone who is on the periphery of a crime."
She said JENGBA was "mindful that there are victims in these cases" but said those convicted under the law can often be "very vulnerable people who have no comprehension of the law and no comprehension that they could actually go to prison for the actions of somebody else - but that is what is happening".
'Evidence of involvement'
Sir Alan Beith, the justice committee's chairman, said: "This area of law is vital to ensuring the prosecution and conviction of criminals involved in gang-related violence in particular, but is now so complex that juries may find it impossible to understand how to reach the right verdict."
He said that while joint enterprise could help deter young people from becoming involved in gangs, "confusion over the law and how it works can put vital witnesses in fear of coming forward, allowing the real criminals to escape justice".
The committee called on Director of Public Prosecutions Keir Starmer QC to issue urgent guidance setting out "the proper threshold at which association potentially becomes evidence of involvement in crime".
Last month, the most senior judge in England and Wales expressed concerns over joint enterprise prosecutions.
The Lord Chief Justice Lord Judge said: "It is one thing to be party to punching somebody, quite another to be party to using a potentially lethal weapon on them."
Mr Starmer has agreed to produce the guidelines, which he said would advise on the "proper threshold at which association potentially becomes evidence of criminality".
"This exercise will be done through consultation, with interested parties, on draft guidance in due course, and as with all CPS guidance it will be kept under review," he added.
"The CPS will also now consult with the Ministry of Justice on the best way forward for collating statistics around cases involving joint enterprise."