Captain Scott commemorative South Pole cricket game won by UK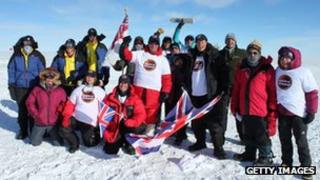 Britain has won a cricket match against a "rest of the world" team at the South Pole, to mark the 100th anniversary of Captain Scott's arrival there.
The leader of a team of adventurers said he hoped Captain Scott was looking down and smiling as they played the game of "extreme" cricket.
Britain won by two wickets in a game played in temperatures as low as -35C.
Scott arrived at the South Pole in 1912, a month after a Norwegian team.
Short of supplies and suffering from starvation and hypothermia, the Briton's party died one by one as they attempted to return to base.
The commemorative cricket game marked the end of an expedition by a team of British adventurers led by former SAS officer Neil Laughton.
Mr Laughton, chief executive of the Business Leadership Academy, said the explorers had been in "great spirits" as they marked the anniversary with a game played against scientists from all over the world, who are based at the Amundsen-Scott research station in Antarctica.
He said: "Obviously it was very cold and difficult with all the bulky clothing to bat and bowl and slide around in the field to catch the ball but we managed it fine.
"I thought it was quintessentially British and I wanted to do something that does not happen down here very often, if at all."
Mr Laughton added that he hoped the game would have pleased Captain Scott.
He said: "With the British outcome, at least he is looking down hopefully and this put a smile on his face," he said.