Do disability rights cost too much?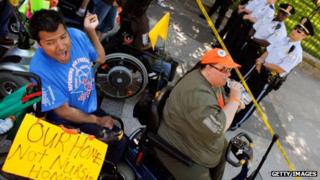 The genesis of today's battle over Disability Living Allowance can be traced back to California in 1962 and a young man left severely disabled by polio.
Ed Roberts had applied to the state's university at Berkeley where one of the deans famously said: "we've tried cripples before and it doesn't work".
But Ed won his place and found himself on the front line of the civil rights protest movement. Amid sit-ins and demos, he asserted that disabled students had the right to full access to university life. His campaigning led to the first Center for Independent Living being founded at Berkeley - a project that became a model for disability rights the world over.
The philosophy was that those with physical disabilities should enjoy the same freedom, choice, dignity and control that able-bodied individuals take for granted. And that the state had a duty to ensure those rights were respected.
It was a campaign that struck a chord in Britain. In the early 1980s a group of disabled people from the UK went to Berkeley seeking support and inspiration, among them Vic Finkelstein, an activist who had cut his teeth in the anti-apartheid movement. He returned to help adapt the American independent living model to Britain's welfare state.
There were some early wins. One group in Hampshire and another in Derbyshire convinced their local councils that rather than pay an institution to look after them, funds should be made available for them to live in their own homes.
The Independent Living activists had started a movement and, when in 1986 Margaret Thatcher's government withdrew a benefit which had supported disabled people in their own homes, a furious campaign was mobilised.
Unsure how to respond to wheelchair protests, within a year the Department of Social Security had backed down, replacing the old benefit with an Independent Living Fund which became the foundation for the Disability Living Allowance, or DLA.
However, ministers and officials in the Treasury were growing anxious. They could see where this might lead and the potential bill attached. Health Minister Virginia Bottomley sent out a circular saying that council-funded independent living schemes were illegal under the 1948 Social Security Act.
A now well-organised disability rights campaign swung into action and managed to get the law changed allowing direct payment.
A new millennium and New Labour saw a further shift - rather than merely permitting English councils to fund independent living, it became mandatory based on individual need. Disability Living Allowance was not means tested or only for the unemployed - the crowning achievement of the Independent Living Movement.
Disability rights are now enshrined within a Council of Europe Action Plan.
Britain is also a signatory to the United Nations Convention on the Rights of Persons with Disabilities which states that disabled people should live where they wish and with whom they wish. Taxpayers pick up the tab.
All of this was largely uncontentious in years of plenty, but austerity has brought with it demands that the welfare state be cut back. DLA costs billions and the Treasury is committed to finding an alternative that will see the rising bill reduced by a whopping 20%.
No wonder there is such concern among disability campaigners. A struggle for rights which began half a century ago is threatening to go into reverse.