Cruise passengers 'not protected from serious crime'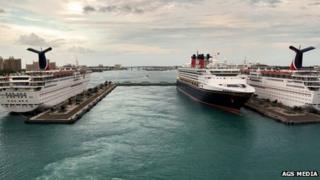 The UK's Shipping Minister Mike Penning has told the BBC that cruise passengers may not be properly protected if they become victims of serious crime on board.
Mr Penning has told BBC Radio 4's Face the Facts that when cruise ships are on the high seas and serious crime takes place on board, current international law prevents him from providing British passengers with the level of protection they would expect on land.
"I don't have any powers on the high seas," he explained. "Our legislation and international legislation does not mean that I can put a policeman on to a ship in the middle of the Caribbean - no-one has the power to do so."
Increasingly cruise ships are choosing to register in countries such as the Bahamas, Bermuda and Panama. Their ships then sail under the flags of these nations.
So, if a British citizen becomes a victim of crime at sea, it is the police force of that country that will investigate.
In the recent case of Rebecca Coriam from Chester, who disappeared last March while working on a cruise ship, only one police officer from the Bahamas was sent to investigate. That, the family say, was only because they insisted on a police investigation.
"I was appalled when I first heard of Becky's case," the minister said.
The Bahamas Maritime Authority has 50 cruise ships registered under its flag. BMA chairman Ian Fair defended their record, saying: "We haven't had any major issues. We have a specific inspector, who's an expert in this area, who is available to handle any matters the BMA requires the police to handle."
Rebecca Coriam is one of 18 people who vanished from cruise ships last year - two more have gone missing this month.
In the past fortnight, in two separate incidents, two crew members have been charged with raping under-age girls - aged 14 and 15.
William Gibbons, director of the UK Passenger Shipping Association, which represents the major cruise lines, said such incidents were of concern.
"But they are very, very rare," he stressed.
"Any proved incident is one incident too many on board a cruise ship. Life at sea is much more secure and safe than ashore because we are operating in a controlled environment - we know who's on board the ship."
Momentum for change
However, one person who will not be on board is a police officer, even though the ship may be carrying up to 9,000 passengers and crew.
Cruise ships do have security officers but they are paid employees and according to Geoff Furlong, a former Scotland Yard detective who worked for six years as a security officer in the 1990s, this can cause a conflict of interest.
When he was investigating a rape on board a cruise ship in the Caribbean, it had to be abandoned.
"I sealed the cabin, I told the steward on duty that the cabin was to remain locked and to remain untouched, it required forensic examination… and when I woke up, I was informed that the mattress involved on the bed had been dumped overboard."
Geoff Furlong also claimed that security officers may not have the relevant training in taking statements, securing crime scenes and gathering evidence.
According to William Gibbons, security officers are properly trained but he said: "You don't have a ratio of security officers, it's down to the company and depends on the size of the ship."
He was unable to tell the programme what the training entailed.
Nevertheless, concern about security on cruise ships is growing internationally because when serious incidents like disappearances and rapes occur, if there is a police investigation at all it will be by a small, foreign force.
The cruise companies agree that the system is not perfect, but "momentum is growing" to change the situation, which will mean changing international law. Not before time, said Britain's shipping minister.
"International law isn't clear at all, which is why at the last session of the International Maritime Organisation we, with the support of lots of other countries, put through recommendations that we needed to change international law," said Mr Penning, "to say that legally at sea, you're entitled to the sort of protection that you and I would expect at home."
The Face the Facts report on cruise ship crimes was broadcast on Wednesday 18 January. You can listen again via iPlayer.