Mini recall: 235,000 cars at risk over pump fault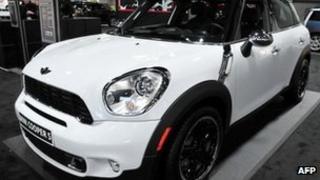 BMW is recalling 235,000 Mini vehicles worldwide - 29,868 in the UK - because of a fault with an electric water pump.
The fault, which could be a fire risk in some cases, is known to affect vehicles, including the Cooper S and John Cooper Works models, built between March 2006 and January 2011.
Owners will be contacted in the coming weeks to arrange a part replacement.
The company said the issue had been picked up by internal quality control. The Mini is made in Oxford.
BMW said it was investigating one incident in the UK of an engine-related fire caused by the fault. There have been no reports of any injuries or road accidents resulting from it worldwide.
High temperatures
Customers should receive a letter inviting them to have the water pump replaced for free at a Mini dealership. The upgrade work takes about an hour.
The Mini plant in Oxford produces about 200,000 vehicles a year.
BMW said there was a "very low incidence" of the fault and the vehicles remained safe to drive.
"In more extreme cases, it could create a heat build-up in the wiring and some smouldering. Potentially it could cause a fire," a spokesman said.
"We are not aware of any accidents or injuries connected with this. The important thing is that when people receive the letter, they simply go to their dealer and get a new water pump fitted if there is a problem."