Courts adopt burglary sentencing guidelines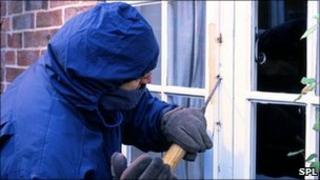 New sentencing guidelines on burglary have come into force in courts in England and Wales, with the effect on victims central to determining tariffs.
Offences will be considered more serious if, for example, a victim is at home when a burglary takes place.
Offenders burgling homes face up to six years in jail, up to five years in non-domestic cases, and up to 13 if armed.
Judges must follow the guidelines, unless it is in the interests of justice to depart from them.
They state that crown and magistrates' courts must always set a custodial sentence for aggravated burglary, which means a weapon was involved.
The proposals have taken account of the views of the public and victims, who thought domestic burglary should generally result in a custodial sentence but not in every case.
'Harm and culpability'
Lord Justice Leveson, chairman of the Sentencing Council for England and Wales, said last year: "We do not recommend every single burglar in every circumstance should go to jail.
"We advise, consistent with the law, that judges should consider harm and culpability: greater harm and greater culpability always jail, but lesser harm and lesser culpability, not necessarily.
"The crime of burglary is not simply a crime against property, it is a crime against the person."
The council said the lowest level of offenders, for whom a non-custodial community sentence might be appropriate, could include those with no previous convictions who did not force entry and took goods of low value.
Its guidelines are the first overall advice for sentencing for the different types of burglary offences.