All 35 Britons on Costa Concordia safe - William Hague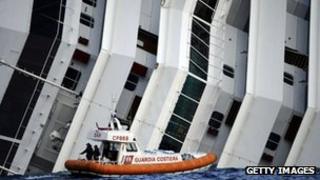 All 35 Britons who were on board the Costa Concordia are safe, Foreign Secretary William Hague has said.
He told Sky News the 23 passengers and 12 crew had been accounted for, but had been through a "very dreadful and distressing experience".
Five people are so far confirmed dead and at least a dozen unaccounted for after the ship hit a rock off the Italian coast on Friday.
Earlier a honeymooning British couple told how they used a ladder to escape.
On Sunday, an Italian man - a senior member of the ship's crew - was rescued by helicopter. Officials say he has a serious leg injury.
Earlier a South Korean couple, who were on their honeymoon, were rescued from their cabin in the half-submerged ship.
The number of confirmed dead rose from three to five on Sunday after the bodies of two elderly men were discovered by divers.
Shortly before the bodies were discovered, Tuscany's regional president Enrico Rossi said the number of people who were missing had fallen from 40 to 17 - 11 passengers and six crew.
Captain arrested
The ship's captain and first officer have both been arrested. The captain, Francesco Schettino, was held on suspicion of causing deaths - prosecutors say he left the ship before evacuation was complete.
Mr Schettino told Italian television he did not understand how the ship ran aground: "Even though we were sailing along the coast with the tourist navigation system, I firmly believe the rocks weren't detected.
"The ship wasn't heading forward but sideways as if under water there was this rock projection.
"I don't know if it was detected or not, but on the nautical chart it was marked just as water and some 100-150 metres (330ft-500ft) from the rocks, and we were about 300 metres from the shore, more or less.
"We shouldn't have had this contact," he added.
Mr Hague said the news that all Britons were safe came from "a lot of information from different sources".
"We're not complacent about that, there may well be some other information that comes to light, but based on all the phone calls we've had, the passenger lists, the people that we've been able to track down... 35 British nationals are safe and accounted for."
He said there would be consular assistance available to the survivors at the airport, and a reception centre at a Rome hotel, although he said it was the responsibility of the cruise liner to arrange flights for people back home.
He said: "We are doing our utmost to look after everybody.
"They've been through a very dreadful and distressing experience, so we'll do all we can to look after them, that is our prime concern in a case like this, to make sure British nationals are safe and looked after."
Amelia Leon, a singer from Birmingham, was with her boyfriend, ship's engineer Claudio Losito, when the ship hit the rocks.
The 22-year-old singer told the Sunday Mercury newspaper of her desperate escape from the sinking ship: "I looked out to sea and it was so dark. All I could see was the coast of the island about 400 metres away. I asked myself: 'Can I swim this if it comes to it?'
"It would be a hard, freezing swim but at least I would be off the ship. People were jumping in the water but in the end we got into a lifeboat and made it to safety," she added.
One British couple, Ian and Janice Donoff, were enjoying a magic show when the lights went off followed by an "incredible noise of scraping", and people started rushing out of the auditorium.
They climbed out on to the side of the stricken vessel after lifeboats failed to release.
They were eventually lowered down a rope ladder to awaiting life rafts.
"It's the most frightening thing coming down on a rope ladder by the whole side of the ship clutching on for dear life... it was an unbelievable ordeal," said Mr Donoff.
Another survivor, John Rodford, criticised staff on the ship for giving him and his wife incorrect information.
"They said 'No, it's all right, it's just a malfunction in the engines'," he told Sky News.
"Then it started tilting the other way and the plates came off the tables.
"The people who served us our dinner were the people who helped us get on the lifeboats and were manning the lifeboats. I didn't see captains' jackets and things like that."