Stop and search use and alternative police tactics
By Alexis Akwagyiram
BBC News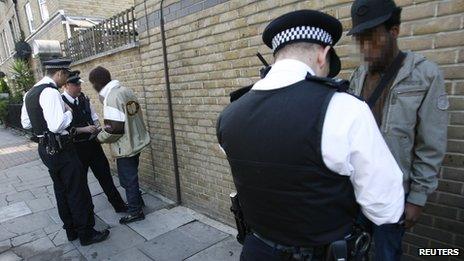 The UK's largest police force is to radically overhaul its use of stop and search, a controversial tactic that some say was an aggravating factor behind last year's England riots.
But why has the use of stop and search become so controversial and how can police combat violent crime without alienating specific groups in society?
The use of stop and search by the Metropolitan Police has not always been professional.
"It is a complex area, but by training and education we can help our officers to deal with it," he said during a question and answer session last week.
According to Home Office figures, black people were seven times more likely than white people to be stopped and searched under all stop and search powers across England and Wales in 2009-10.
However, under section 60, the rates are much higher.
New research by the London School of Economics (LSE) and the Open Society Justice Initiative based on government figures found that black people were 29.7 times more likely to be stopped and searched under section 60 during the same year.
But only 2% of the stop and searches under section 60 resulted in an arrest, according to government figures.
"The arrest rates for section 60 are so low that it's difficult to say that it's an effective strategy. We keep assuming that stop and search works, but the evidence suggests that it doesn't," said criminologist Dr Michael Shiner, who is based at the LSE and a member of StopWatch, a broad coalition of academics and legal experts to stop disproportional stop and search tactics.
Dr Shiner said knife amnesties were an example of a strategy that was more effective in combating violent crime.
In a statement issued last week, the Metropolitan Police Authority said: "There will be fewer 'section 60' authorisations, while the intelligence threshold to approve this power will be increased, ensuring there is a stronger case to grant it in the future.
"There will be more arrests arising from searches, and more weapons sought to help prevent violent crime."
Officers have traditionally defended their right to use the approach as a tactic which they say helps target drug and knife crime.
But the disproportionate use of section 60 powers on black youths, combined with a low arrest rate, has led to accusations of racial profiling.
Last year, Ann Juliette Roberts, 37, of Upper Edmonton, north London, won permission to bring a landmark challenge over the legality of stop and search powers used by police to tackle knife and gang crime.
Her lawyers said statistical evidence showed that a black person was more than nine times more likely to be searched than a white person.
Anecdotally, it has long been feared that the use of stop and search fosters resentment between a generation of youths and the police officers who stop them.
These concerns were echoed in a recent study by the LSE and the Guardian newspaper which suggested that anti-police sentiment was a significant factor in riots which took hold of cities across England in August.
The focus of much resentment among the 270 rioters interviewed was police use of stop and search, which was felt to be unfairly targeted and often undertaken in an aggressive and discourteous manner.
Some 85% cited anger at policing practices as a key factor in the violence, although in its response to the findings the Association of Chief Police Officers said it would be "quite odd" if a high proportion of rioters surveyed did not cite the police as a factor in their behaviour.
The Independent Police Complaints Commission said police powers to stop and search individuals "can have a significant impact on public confidence in policing", adding that it wrote to chief constables outlining its stance on the tactic in March 2010.
It said most police officers use their search powers in a "considered and professional manner", often under difficult circumstances, but this was not always the case.
The IPCC said it believes the use of stop and search "can be highly intrusive, especially where it does not result in an arrest and no proper explanation or justification given" and can also "significantly undermine the individual's and wider community confidence in policing".
It added that police should use their powers in a way that is "demonstrably fair, effective and carries public confidence".
On the streets of Brixton, in south London, the frustrations felt by a group of black youths was clear as they told the BBC of their negative experiences of being stopped.
"If they approach us in a calmer way we would feel safer. But they come aggressive and grab you up against a wall," said one.
Another said: "All of us are just criminals [in their eyes]."
But if some people are unfairly targeted, and it causes resentment, what is the alternative? How can the police engage with disaffected communities while effectively fighting crime?
Kam Gill, a research and policy analyst at race equality think tank the Runnymeade Trust, believes more attention should be paid to the "quality" of encounters between officers and those stopped.
He said the police need to demonstrate accountability and transparency to the communities they served where stop and search practices were concerned.
"If a policeman is asking questions and making notes on your answers the least you deserve is a receipt to prove it took place," he said, arguing that hand-held devices could be used by police for note-taking to avoid the perennial problem of excessive paperwork.
Mr Gill, 28, also said there was a need for police to engage more with community members through events and initiatives to improve the quality of intelligence gathered through them, prompting a more targeted crime fighting strategy.
"There should be less focus on police on the beat and more on building relationships with communities," he said.
"People need to meet with the community and respond to their concerns so that people feel the police are accountable to them.
"There is evidence that a general experience of stop and search drives people towards crime and away from the police. These communities feel more alienated and less able to rely on their police service."
By way of example he referred to work carried out Ipswich and Suffolk Council for Race and Equality, a charity which arranges meetings at which local police officers are questioned by members of the public at regular meetings about searches they have conducted and their reasons for stopping certain individuals.
He argued that the process "improves the quality of searches" and makes the police accountable.
"If you want to you are a just and equal society you need to treat people equally."
Related Internet Links
The BBC is not responsible for the content of external sites.