UK battery farms break EU rules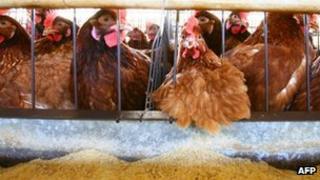 Up to 500,000 hens are being kept in battery cages on farms in the UK despite an EU-wide ban which came into force at the beginning of the year.
Since 1 January, all laying hens must be kept in "enriched" cages with extra space to nest, scratch and roost.
The government - which has strongly criticised other countries for breaking the deadline - says it's disappointed that about 30 farms still use cages.
But it is confident the new rules will be fully enforced by early February.
The European Union announced the ban on battery hens in 1999.
Peter Stevenson, Compassion in World Farming's chief policy adviser, said he was "very disappointed" that British egg producers were still using illegal cages even though they were given years to phase them out.
He told BBC Radio 4's Farming Today: "The government and the British egg industry always said that British egg producers would be ready on time. I'm sure they meant it sincerely and they've been badly let down by these 30 or so egg producers.
"What government must now do is take urgent steps to make sure these producers comply very quickly with the ban or get out of egg production."
'Embarrassing'
He said ministers and retailers must make sure no battery farmed eggs are sold.
The chief executive of the British Egg Industry Council, Mark Williams, admitted the discovery that a small number of farms weren't complying with the new law was "embarrassing" and said there "aren't any excuses".
But he said all British lion mark eggs - those produced on farms that meet an industry code of practice - came from farms where cages met new legislation.
He said: "Within the lion scheme we have around 50 in colony cage farms and they have 11.5m hens - so that's the level of conversion that's taken place.
"I would estimate that possibly one reason why there are these stragglers still around is they have had difficulty being able to get their hens out on time."
The Department for the Environment, Food, and Rural Affairs (Defra) admitted not all UK farms were complying with the ban at a EU meeting on Tuesday.
Fourteen other member states have also failed to meet the deadline.
'Pecking and scratching'
Speaking before it emerged the UK had yet to fully comply with the new rules, David Cameron told BBC1's Countryfile programme, to be screened on Sunday, the law should be fully enforced.
"I think with other European countries what we ought to do is take them to court if they don't put in place the changes they've signed up to," he said.
In a statement, Defra said it was "very disappointed" that a small minority of egg producers hadn't complied when the majority had spent £400m on installing the new enriched colony cages.
It said the number of UK hens still in illegal battery cages only represented about 1% of the national flock.
Compliance notices have been issued and local authority trading standards, who would bring any prosecutions, have been informed.
Government 'must act'
But officials say they are confident farms breaking the law will shut down or start using new cages by February.
For Labour, shadow food and farming minister Huw Irranca-Davies said: "The government has criticised other EU nations for failing to comply with the ban on battery cages, yet it didn't know that half a million UK hens are still held in illegal cages.
"UK farmers have spent £400m getting rid of battery cages and the government must act immediately to ensure that they do not face unfair competition from these illegal eggs."
The new EU legislations prevents animals being kept in cages with less that 45cm of headroom and 750 sq cm floor space per hen. New cages must also be equipped with a nest and litter to allow pecking and scratching.
A spokesman for the European Commission said across the EU there were about 46 million hens still in battery cages - about 14% of the total number of birds.
He said the commission would study the UK data very carefully but the first stage of the infringement procedure - a letter asking what action a country is planning to take - will begin in the next few weeks.