Newspaper review: Papers react to government defeats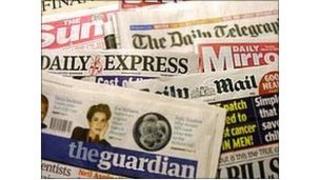 Several papers comment on the three defeats inflicted on the government's Welfare Bill in the House of Lords.
TheFinancial Times says the defeats have left the legislation "in tatters"and ministers have been "humiliated".
It says officials will now have to compromise with peers to avoid the bill becoming bogged down.
TheSun stresses that ministers have pledged to overturn the defeats- but their scale, saysthe Times, shows that peers are "up for a fight".
Energy bills
In theTelegraph, senior doctors warn patients are being put at riskby EU laws that allow potentially incompetent foreign doctors to work in the NHS.
In a letter to the paper the heads of two royal colleges argue there are "huge variations" in the ability and training of doctors from overseas.
TheExpress says a fierce price war could see cheaper energy bills.
TheDaily Star describes the prospect of price cuts by the big six firmsas a "light at the end of the tunnel".
Iran bombing
The car bombing which killed an Iranian nuclear scientist in Tehran elicits much concern.
TheDaily Mailsays the killing bore strong similarities to a string of assassinations of other nuclear scientists.
TheGuardianhas little doubt that the Israeli military was behind it.The Timessays Iranians feel under attack.
TheFT observes that the stress could be raised even furtherif the EU imposes a full oil embargo on Tehran.
'Embarrassing'
Many of the papers carry news of an attack on the government's high speed rail plans by the prime minister's father-in-law.
The Guardiansays Mr Cameron has been "blindsided"by an article in the Spectator written by Lord Astor.
The Tory peer said the line would ruin the lives of thousands along the route.
TheTimes says with homes in London, Oxfordshire and Scotland,the Tory peer could have come down on either side.
The Sun called his attack "embarrassing".