PIP breast implants: Pressure mounts on Lansley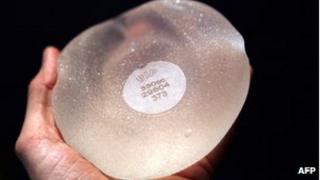 The Health Secretary for England, Andrew Lansley, is facing calls for more decisive action to help women concerned about PIP breast implants.
The Independent Healthcare Advisory Services (IHAS) says women are more confused and anxious than ever.
Mr Lansley says private clinics that fitted implants have a "moral duty" to remove them.
But IHAS director Sally Taber says its members are "as much a victim of this fraud as the NHS and the patients".
In a statement on behalf of the trade body - which represents many of the companies involved - she said: "If there is any moral or ethical obligation outstanding it lies with the government's regulatory agency, the MHRA.
"But the overriding issue here is that it is in everyone's interest to work together to ensure that patients are treated with compassion."
Around 40,000 women in the UK have been fitted with PIP implants.
The implants by French firm Poly Implant Prothese were banned last year after they were found to contain a non-medical-grade silicone filler.
"Unclear"
On Wednesday the Harley Medical Group - which fitted 13,900 women with the implants between September 2001 and March 2010 - said it would not replace them free of charge.
Its chairman Mel Braham said the company didn't have the resources, surgeons or operating facilities necessary.
Mr Lansley said the NHS would pay to remove, but not replace, implants if a private clinic refused or no longer existed.
But speaking in the House of Commons, he said it was not fair for the taxpayer to foot the bill and that if the NHS was forced to remove an implant "the government would pursue private clinics to seek recovery of our costs".
Ms Taber said whilst the intention was to offer guidance, Mr Lansley had confused patients.
She said: "With the current government position remaining unclear, patients want to know the timeline for the further investigations into PIP implants by the MHRA."
She went on to complain that IHAS has been unable to meet officials to discuss a solution, something the Department of Health strongly denies.
The British Association of Aesthetic Plastic Surgeons (BAAPS) has insisted that private clinics, rather than taxpayers, should pick up the bill.
In poll of 230 of its members, 8% said they had ever used PIP implants and 95% said private clinics or hospital should pay for any treatment.
The BAAPS president, Fazel Fatah, said: "It does not surprise me that our membership agrees that the NHS and therefore the taxpayer should not be burdened with the cost of these operations.
"There are a few clinics that continue to refuse to assist their patients but they do not encompass the whole of the private sector - they represent a disappointing and increasingly isolated element still not putting patients' peace of mind and therefore quality of life ahead of commercial considerations."