HS2 will ruin thousands of lives says PM's father-in-law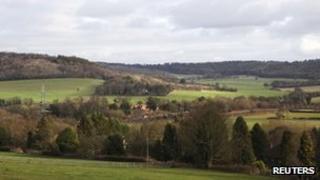 The government's high-speed rail plans will ruin thousands of lives, according to David Cameron's father-in-law.
Writing in The Spectator, Lord Astor says that the HS2 network was backed largely by "northern Labour MPs who relish the thought of the beauty of the Chilterns being destroyed".
The Tory peer, who is Samantha Cameron's stepfather, says websites like Skype limit the need for travel.
Ministers say the £33bn scheme will create "jobs, growth and prosperity".
The plans were given the go-ahead on Tuesday.
In her announcement the Transport Secretary, Justine Greening called the line "the most significant transport infrastructure project since the building of the motorways".
But Lord Astor says the need for it could be bypassed by modern communications.
He writes: "There is a perfectly viable alternative, which... would be much cheaper and faster to take effect, without destroying a whole swath of countryside, ruining the lives of thousands".
"Have they not heard of Skype and the internet?", he adds.
Lord Astor urges Ms Greening to "compare HS2 with cheaper options and look at how those savings could be spent on other transport needs".
Amid bitter opposition from countryside campaigners and some Tory MPs, Ms Greening announced this week that more of the London-Birmingham phase of the project would go through tunnels to minimise the impact on the landscape.
The scheme will, by 2026, see 400 metre-long trains capable of holding 1,100 passengers get from London to Birmingham in just 45 minutes.
A second phase to Manchester and Leeds will be built by 2033.