London 2012: Derek Redmond's father nominated as Olympic torchbearer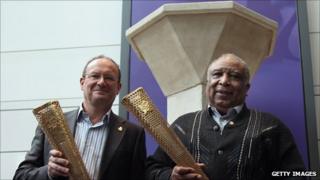 The fathers of former British athlete Derek Redmond and 2012 hopeful Chris Mears have been nominated to carry the Olympic torch in this year's relay.
Jim Redmond came on to the track to help his injured son cross the line in the 400m semi-final in the 1992 Games.
Paul Mears and his wife Katy maintained a bedside vigil for son Chris, after the diver was seriously hurt in Sydney.
The pair were nominated for showing "dedication and support to their children's sporting careers".
Redmond was chosen by British Olympic Association chief executive Andy Hunt while Mears was nominated by BOA chairman Lord Moynihan.
Mr Hunt said: "It was a truly iconic moment. It represented what the Olympic spirit was about. It was an example of what it's like for parents to support through good and difficult times.
"The London 2012 Torch Relay is a great opportunity to ignite the Olympic spirit and support for Team GB around the UK."
Lord Moynihan said: "The Mears family have offered to host the families of Australian athletes coming to 2012 to thank Australia for its support when Chris was ill.
"I am delighted they have been nominated as torchbearers.
"The often unsung role that parents play throughout the lives of Olympic athletes in nurturing the values, dedication and commitment needed to become a successful Olympian is invaluable.
"This is about putting parents at the top of the tree. It shows they are central to the success of Team GB. "
Mr Hunt said: "The London 2012 Torch Relay is a great opportunity to ignite the Olympic spirit and support for Team GB around the UK."
Redmond senior famously jumped from the stands to be with his son on the track in Barcelona after the runner tore a hamstring and was unable to continue running. He offered a shoulder of support and helped the athlete finish the race.
He said: "I have great remembrance of the day when Derek was competing in the 1992 Games.
"When he started we expected to win something. During the first 100 metres we thought he'd finish in the first three. Then his leg went, but Derek being Derek would never give up.
"And then I don't know why but I had an instinct I had to go over to him. When I got to the track I didn't realise there was a pit at the front but I leapt over. We finished the race jointly.
"I didn't realise that 19 years later it would still be being talked about. I'm delighted, honoured and very, very proud. Derek is very happy I was chosen. It also means he stays in the frame and is still recognised too."
Mr Redmond made plenty of sacrifices for his son's career.
"I'd often leave work at 4pm and meet Derek with his mum in the car on a motorway bridge and then take him to training and events. It was very important to be there," he said.
Looking ahead to his big day in the relay, he added: "You can guarantee I'll be the slowest person on my route because Derek was too!"
Chris Mears suffered a serious training accident while with Team GB at the Australian Youth Olympic Festival in Sydney in 2009.
The teenager was put in intensive care and diagnosed with a ruptured spleen which required immediate surgery. He has now made a full recovery and is in contention for a place in the British team this summer.
A delighted Mr Mears said: "It's an enormous privilege to be carrying the torch.
"I'd also like to thank the BOA for their sterling work when my son nearly died (in 2009). It was almost like a military operation. My son is pleased and I hope proud that I'm carrying the torch. He's delighted at the recognition.
"Chris is back competing in Australia. Like most teens he didn't give a thought to lightning striking twice and him getting ill again. But he returned on Christmas Eve with a bag of presents.
"When he was ill, the Australian Olympic Committee took Chris's case to heart, they offered us accommodation and meals in people's houses. We have a lot of affinity for Australia now."
He added that he was accepting the torch on behalf of himself and his wife, who did the "lion's share" of taking their son to training six days per week when he was younger.
Mr Redmond and Mr Mears are the first two of 250 BOA nominees to carry the torch in the relay, which starts on 19 May.
The BOA handed Olympic national governing bodies 70% of their slots to nominate outstanding British Olympians of the past and present and aspiring athletes of the future.
In December, Games organisers Locog notified around 6,800 of the 8,000 successful public torchbearers as well as more than 21,000 nominees who were unsuccessful.