Police pay reforms in England and Wales approved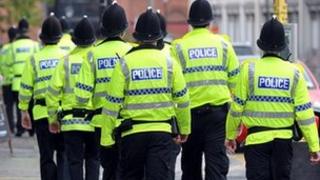 Radical reforms of police pay and allowances in England and Wales are set to go ahead, after an independent panel approved most of the changes.
The Police Arbitration Tribunal agreed to 10 of 18 recommendations made in a review and backed by the Home Office.
They could see pay cuts for about 40% of officers, but leave some with special skills, or who work unsocial hours, better off.
Officers' representatives accepted the decision but were "disappointed".
It is estimated the changes will save £163 million per year in 2012-13.
Police Federation chairman Paul McKeever said: "Many police officers across England and Wales will be angry and dismayed about their future.
"However, we entered in to the negotiation process in good faith and therefore, whilst not happy with the entire decision, accept their ruling."
The recommendations had been made by the UK's former rail regulator and lawyer Tom Winsor, who led the review which was aimed at improving the service and maximising value for money.
Pension values
The tribunal - which makes rulings when no agreement on pay changes can be reached - modified five and took no position on three of them.
Together with an expected pay freeze and pension reforms, the Winsor report suggested that about 60,000 officers - 43% of the workforce - could lose as much as £4,000 a year.
Police officers are banned from striking.
BBC home affairs correspondent Danny Shaw said that, if imposed, the changes would save "just £5m less than the government had wanted".
Graham Cassidy, of the Police Superintendents' Association, said it was disappointing that the review would not only hit members' pay but also the value of their pensions.
A Home Office spokesperson said the home secretary would consider the report's findings, adding: "It is important that ministers take the time to consider the report in full before making a decision."