Newspaper review: Plans to tackle executive pay examined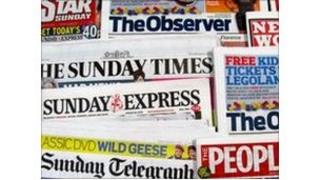 The government's plans to take decisive action on excessive boardroom bonuses and pay are making headlines.
According to the Observer, they reflect a growing consensus among MPs that executive packages are "out of control", and must be tackled.
The Sunday Telegraph, which carries an interview with David Cameron, says Tory strategists are concerned that Labour's call to the squeezed middle has electoral appeal.
The prime minister's plans are a response to that, the paper reports.
Immigration probe
The Mail on Sunday says the government plans a tougher stance on Scottish independence.
It says a showdown is planned with with Scotland's First Minister Alex Salmond.
This is after Downing Street took legal advice said to confirm that a referendum cannot be held without permission from Westminster.
The Independent on Sunday examines the "true" state of race relations in Britain in the wake of the conclusion of the Stephen Lawrence murder trial.
The Sunday Times has carried out an undercover investigation into illegal immigration, saying criminal gangs in Greece are renting out passports.
Two newspapers examine the finances of the former prime minister, Tony Blair.
The Observer says the complex network of firms and partnerships he controls saw its income rise by 40% last year.
A spokesman said the accounts are prepared with legal guidance and his companies are UK-registered.
The Telegraph claims that £8m spent on "administration", which lowered the tax bill to £300,000, remains unexplained.
But the paper says there is no question his tax affairs are legitimate.
Salad days
The Times says scientists have devised how to get as much food as possible on one dish from a restaurant salad bar.
It explains how a Chinese engineer built a three-foot salad tower on a single plate.
The Sunday Mirror and the Sunday Express report the Duke and Duchess of Cambridge are backing a new £35m charity for war veterans, called Forces in Mind.
It is the Duchess's mercy mission, say the papers, for servicemen and women struggling to adapt to civilian life.