Troops charity Forces in Mind Trust launches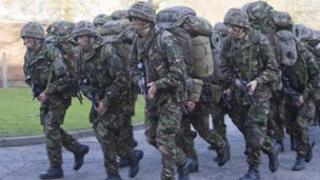 A charity which aims to help soldiers return to civilian life is to be launched with support from the Big Lottery Fund and a royal trust.
The Forces in Mind Trust (FIMT) has been given £35m from the lottery and partnership support from the Foundation of Prince William and Prince Harry.
It is a grouping of charities and mental health organisations, led by the Confederation of Service Charities.
It will begin helping veterans and ex-service personnel this week.
There are already a number of charities which help soldiers make the transition from the Armed Forces to civilian life, including the Soldiers, Sailors, Airmen and Families Association, the Royal British Legion and the Remount charity.
The FIMT launch comes on the day the Duke and Duchess of Cambridge attend the UK premiere of War Horse in Leicester Square in aid of the princes' foundation.
The couple will be joined by 600 serving and former military personnel and their families, including beneficiaries of military charities.
Major support
The FIMT aims to provide UK-wide long-term support and advice - over the next 20 years - to ex-service personnel adjusting back into everyday life after experiencing action on the front line.
The trust says soldiers and their families can experience poor mental health, family breakdown and alcohol-related problems as they attempt to settle back into civilian life.
The trust will be supported by the Foundation of Prince William and Prince Harry by grants over a three-year programme to help raise awareness of the issues facing veterans and carry out research on the most effective ways to support their transition.
Both princes serve in the Armed Forces.
Nick Booth, the foundation's chief executive, said: "We are incredibly excited about this partnership with Forces in Mind.
"Taking a direct lead from our patrons, the foundation is committed to ensuring those who have given so much serving their country in the Armed Forces are, in turn, given as much support as they and their families need to re-integrate into civilian society.
"We hope the foundation's involvement and resources will further allow the Forces in Mind Trust to become a major new source of support and leadership in this incredibly important sector."
The royal foundation was set up in 2009.
The Big Lottery Fund has given more than £88m to programmes supporting veterans since 2004.