Britons warned over Nairobi terror threat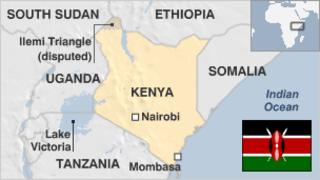 The British government has warned UK tourists in Kenya to take extra care, amid fears that a terrorist attack in Nairobi is imminent.
The Foreign Office said it believed terrorists may be in the final stages of planning attacks and strongly advised Britons to be "vigilant".
The BBC understands several people, including one Briton, were arrested after a plot was disrupted in December.
Kenyan authorities also want to speak to other Britons, the FCO said.
The BBC's world affairs correspondent Caroline Hawley said the Foreign Office's updated travel advice followed a warning, two days ago, from Kenyan police that al-Shabab militants in Somalia had teamed up with al-Qaeda to plan attacks.
'Indiscriminate'
In an update to its travel advice on Saturday, the Foreign Office said: "The Kenyan authorities have alerted the public to a heightened threat from terrorist attacks in Nairobi.
"We believe that terrorists may be in the final stages of planning attacks. Attacks could be indiscriminate and target Kenyan institutions as well as places where expatriates and foreign travellers gather, such as hotels, shopping centres and beaches.
"We strongly advise British nationals to exercise extra vigilance and caution in public places and at public events."
Col Cyrus Oguna, a Kenyan military spokesman, told news agency Associated Press that Kenyan authorities had thwarted attempted attacks by al-Shabab over Christmas and the New Year.
He said Kenyan troops in Somalia had made pre-emptive strikes on different targets in Somalia.
The BBC's security correspondent Frank Gardner said al-Shabab was "a force to be reckoned with".
He said UK government officials have said "a serious and credible terrorist plot" was disrupted in Kenya, adding that the targets were most likely to have been Western.
Several people were arrested, including the British national, he said.
Increased security
A Foreign Office spokesman said: "British counter-terrorism authorities are working closely with Kenyan authorities on the case of a British national arrested on 19 December in Mombasa.
"A team from the UK's Met Police CT [counter-terrorism] team SO15 deployed to Kenya in late December to assist the Kenyan authorities with their investigation. They have now returned."
He added: "We are aware the Kenyan authorities are interested in speaking to British nationals in relation to possible links to al-Shabab."
The Kenyan authorities have increased security in Nairobi.
In 1998, 200 people died in an attack on the US embassy in Nairobi, and in 2002, there was an attack on a hotel used by Israeli tourists in Mombasa.
Kenya sent troops into Somalia in October after a string of kidnappings and cross-border attacks which had threatened Kenya's tourism industry.