Stephen Hawking at 70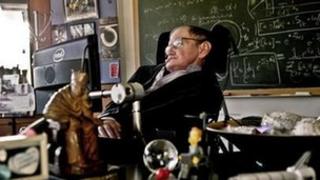 Although retired from his post as the Lucasian professor of Mathematics at Cambridge - a position once held by Sir Isaac Newton - Professor Stephen Hawking's study in the University's Department of Applied Mathematics and Theoretical Physics is still a vibrant hub of activity.
The chalk boards - crammed with indecipherable equations - bear testament to the latest efforts of his students, while the walls strain under the weight of both the accumulated memorabilia of a lifetime's achievement at the cutting edge of science, and Professor Hawking's unique status as a scientist who has transcended the boundaries of academia and entered the public consciousness.
Stills from his numerous appearances as a cartoon character in The Simpsons and Futurama vie for space with photographs of the great and good. There's even a recent letter from Michelle Obama on display.
Not bad for a man who was told he had just months to live when he was diagnosed with motor neurone disease in 1963.
Professor Hawking shrugged off that dire medical prognosis long ago, and will celebrate his 70th birthday on Sunday. To mark the occasion Cambridge University is hosting a scientific conference featuring such luminaries as this year's winner of the Nobel Prize for Physics, Saul Perlmutter, and the Astronomer Royal Lord Rees.
Professor Hawking will give the keynote address - on fundamental physics at the extremes: black holes and the Big Bang.
I'm glad to say Professor Hawking also agreed to talk to us, and in the spirit of celebration, we thought it would be a good idea to throw the floor open to you the listeners.
The response was simply overwhelming with hundreds of questions flooding in from all over the world via twitter, email and on our facebook page.
Recording an interview with Stephen Hawking presents its own unique problems. He has to write answers to even the most basic questions through a computer connected up to a camera trained on his eye - an incredibly laborious process that averages about a word a minute.
But you never hear any complaint from him, and clearly his mind - and his sense of humour - is as sharp as ever. The audience for his keynote address in Cambridge on Sunday are in for a treat.