Newspaper review: Diane Abbott tweet hits headlines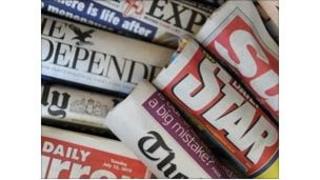 Diane Abbott's controversial comment on social media site Twitter provokes much comment in Friday's papers.
The Daily Mirror concludes that the shadow health secretary was not racist but wrong.
The Sun calls her a "stupid twit" for saying that "white people love playing divide and rule".
Meanwhile, the Daily Telegraph thinks that her apology for any offence caused, made after being told off by party leader Ed Miliband, was somewhat half-hearted.
The Stephen Lawrence murder trial continues to be front page news for the Daily Mirror.
Under the headline "Hit Them Harder", it reports that the attorney general is reviewing the prison terms given to Gary Dobson and David Norris.
The Times claims a secret diary written by a woman who was found hanged could have cleared her husband of murder.
It says the diary, which showed she had previously attempted suicide, was held by police for more than 16 years.
The Daily Telegraph leads with plans to give divorced parents the legal right to see their children.
It reports that courts will be required to ensure that both mothers and fathers have access to their children.
Meanwhile, shadow defence secretary Jim Murphy tells the Guardian Labour must stop rejecting all government spending cuts to achieve "genuine credibility".
Mr Murphy also tells the newspaper that he is prepared to accept £5bn of defence cuts.
The death of photo-journalist Eve Arnold is marked with a number of striking images in the papers.
She was famous for intimate photographs of Marilyn Monroe, which explains the number of portraits of the star on the front pages of many papers.
But the Independent reminds us that she was equally comfortable shooting poverty-stricken migrant workers.
The Times describes her as "a small, steely woman who captured the affections of her diverse subjects".