Iraqi militia offer to return Alan McMenemy's body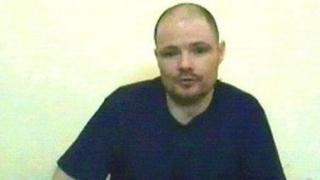 The Iraqi militia that kidnapped five Britons in 2007 has said it will hand over the body of the last missing man, who it said was "killed in a clash".
UK authorities had suspected Alan McMenemy, from Glasgow, was dead.
The bodies of fellow security guards Jason Creswell, 39, of Glasgow, Jason Swindlehurst, 38, of Lancashire, and Alec MacLachlan, 30, of Carmarthenshire, were released in 2009.
IT consultant Peter Moore, of Lincoln, was also captured but released alive.
The UK Foreign Office said it was aware of the offer to release the body of Mr McMenemy, who was 34 when he was taken captive.
"The uncertainty over Alan's fate has been a source of great distress for his family. It has been a horrendous ordeal for everyone involved," a spokesperson said.
"We are working with the Iraqi authorities and others to bring this matter to resolution."
Mr Moore told Channel 4 News on Thursday that when he was released he was told Mr McMenemy's body would be released at the same time.
"We've been waiting for the body for a long time. When I was released I was told by Qais al-Khazali (the leader of the Asaib Ahel al-Haq militia) that the body would be released with me, and obviously that never happened.
"So I've been waiting for the body to be released. It's so long, it's never going to go away from any of our lives.
"But it is important to move on. We don't have to forget but we have to keep living, and this is the end of the chapter, sort of thing. It's the end of the book."
Uniform disguises
The men were kidnapped on 29 May 2007, from the ministry of finance in Baghdad where Mr Moore was working on a new IT system under the protection of the private security guards.
They were overpowered and taken hostage by a group of 50 to 100 armed men who entered the building that morning disguised in police and military uniforms.
Mr Swindlehurst, Mr MacLachlan and Mr Creswell were later shot dead by their captors and their bodies taken to police stations in Baghdad in 2009.
At the inquest for the men last June, a Foreign Office spokesman said it was believed Mr McMenemy had also been killed.
The kidnappers, an Iraqi Shia militia group, had told the British embassy he was dead but failed to provide any proof.