London 2012: Olympic synchronised swimming fans will not be forced to give up tickets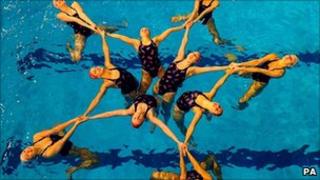 No-one will be made to give up tickets for the synchronised swimming at the 2012 Olympics despite the event being oversold, organisers Locog have said.
About 3,000 people were asked if they wanted to swap their tickets for other sports after Locog realised the error.
As a result many have been upgraded to tickets for major events, with 200 tickets for the men's 100m final being allocated as part of the exchange.
But some fear they may be left without a swimming ticket because of the error.
A Locog spokesman said: "No-one will be forced to give up their tickets, we are contacting people to see if they want to swap."
On Wednesday it emerged that when tickets for the sport were put back up for sale in the second round, a human data error meant 10,000 extra tickets, which did not exist, were made available.
Last month thousands of people with the tickets were sent an email offering them the chance to exchange their tickets for other events for which they applied, and were originally unsuccessful.
It means people with tickets for the synchronised swimming could end up swapping them for for some of the highest profile events at the Olympics.
'More of a spectacle'
But Sally Anne Huk, 60, who paid £300 for four tickets to the synchronised swimming on 5 August, says she wants to keep her tickets for what she hopes will be a memorable family day out.
The part-time teacher from Loughton in Essex said: "It's my daughter's birthday and we will be going as a family. We chose it and we are keeping them.
"I am most interested in going in the buildings, the Aquatics Centre and Velodrome, they are beautiful. I am not someone who wants to see the 100m final or to go in the main stadium.
"Both my daughters and I are interested in synchronised swimming. It is entertaining and will go on for more than a few minutes. It will be more of a spectacle.
"I felt from the email that I was entering into some kind of ballot and I wasn't sure I would get anything I had wanted. I'm still not sure."
'Rather vague'
Will Curtis from Cambridge is also keen to hang on to his synchronised swimming tickets.
He said: "I completed the form, but I was then telephoned three times over the next two weeks asking me to complete the form."
After calling Locog to check they had his form logged he said he was told they called "everybody affected several times and had no record of whether they had completed the form."
He added: "They also said they had been told that anyone wanting to keep their synchronised tickets would be able to do so, but this didn't reassure me - if they have oversold, surely this will depend on sufficient numbers choosing to swap to another sport."
Locog said they did not yet have figures for the number of people who had agreed to swap their tickets.
Meanwhile James Wickham, from Sevenoaks in Kent, was very pleased about the outcome after being offered tickets for the men's 200m final.
He said: "The email sent out was rather vague but it did give the impression there had been a hiccup of some sort.
"I was able to swap my synchronised swimming tickets, which I was less than enthusiastic about but were the only tickets for an event at the park I could get hold of, for athletics instead, including the men's 200m final."
More than a million extra tickets are due to go on sale in May.
These had been held back by Locog while seating positions were confirmed at all the venues. It is some of these tickets which have now been made available to those who had originally been expecting to watch synchronised swimming.
The process for people to resell unwanted tickets opens on Friday.