London 2012: Social media restriction for Games Makers
By Claire Heald
BBC 2012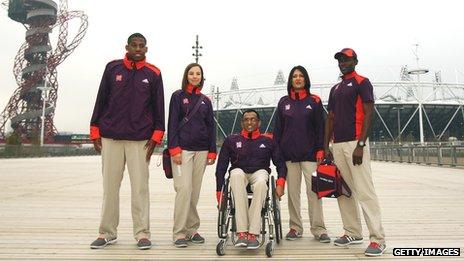 Olympic organisers have set out social media rules for the 70,000 Games Maker volunteers, including a ban on pictures or posts featuring backstage VIPs.
The rules, set out in a document in the Games Makers' area of Locog's website, say social media at London 2012 is managed by its communications team.
It asks people not to mention details about their role, location or about athletes, celebrities and dignitaries.
Games Makers have been commenting on the rules on their page on Facebook.
One said: "I have already said too much according to guidelines, though will censor myself now.
"Have organisers been taken by surprise? I wonder whether the genie is already out of the bottle?"
Another says: "Also it means not appearing in... your local paper about being a Games Maker or visiting a school without seeking 'permission' advice from the 'powers that be'."
The guidelines set out what social media is and tell volunteers they can mention they are working for London 2012 in general but not mention any specific details.
"This includes information presented in text, audio or visually (e.g. in videos and photos)," it says.
It says Games Makers should remember to avoid making any public statement on any subject relating to London 2012 without the prior approval of the Locog Communications team - including agreeing to attend any event to speak about any aspect of London 2012.
It sets out how the public realm of social media could pose a risk to the Games in terms of reputation and safety and security.
In a "what to do and what not to do" section, it warns volunteers:
not to disclose their location
not to post a picture or video of Locog backstage areas closed to the public
not to disclose breaking news about an athlete
not to tell their social network about a visiting VIP, eg an athlete, celebrity or dignitary.
not to get involved in detailed discussion about the Games online
but they can retweet or pass on official London 2012 postings.
Locog is in the process of recruiting and training the 70,000 volunteers who will help to run the London 2012 Olympic and Paralympic Games and 30,000 of them had been notified by the end of 2011.
They will take up roles on the field of play, on ticket checks and information desks and in specialised tasks such as working in the medical services team.
A Locog spokesman told the BBC: "We understand that many of our Games Makers will want to use social media to share their exciting experiences at London 2012 with their friends and family.
"As is standard in most organisations, we have provided some practical guidelines to give basic advice on interacting in a social media environment with the aim of protecting the interests of our workforce and operation."
Social networking sites such as Twitter have caused controversy for athletes, including Team GB, and for other sports stars.
England's footballers were banned by their coach from tweeting during the 2010 World Cup, as were New Zealand's All Blacks during the 2011 Rugby World Cup.
The head of UK Athletics Charles van Commenee criticised triple jumper Phillips Idowu after he tweeted in June 2011 that he was pulling out of the European Championships. Idowu later said he informed UK Athletics before posting on Twitter.
Related Internet Links
The BBC is not responsible for the content of external sites.