Scrap metal industry faces crackdown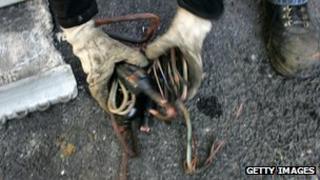 Britain's £5bn-a-year scrap industry is facing tougher regulation as part of a government crackdown on metal theft.
People selling scrap could be required to register and face identity checks.
And cash payments could be banned, to make metal transactions easier to trace, Home Office minister, Lord Henley told the BBC.
Tougher regulation would be welcome, according to an industry spokesman, but a cash ban could be counterproductive, he warned - encouraging illegal trades.
Hospitals, the rail network, utility companies, churches and war memorials have all been targeted in recent years by thieves attracted by the rising prices of non-ferrous metals such as copper.
"I think it likely that we will have to regulate," said Lord Henley, the Home Office minister responsible for crime prevention.
"We will have to improve the 1964 Scrap Metal Dealers Act which colleagues have been saying is well past its sell-by date."
Legislation could be in the form of a private member's bill currently before Parliament, but Lord Henley said the government would need to see the proposals in detail before deciding whether to back them.
"The broad gist behind it is something that we could welcome. The idea that possibly you could go cashless is something we're considering, as well as the idea that you should provide proper proof of identity when you get to a scrap metal yard.
"At the moment you can just go there and sign in as Mickey Mouse or whoever. We want proper ID so there's greater transparency and a greater chain of who owns what."
The British Metal Recycling Association, which represents many of Britain's scrap yards, told Radio 4's The Report that it supports tougher regulation and enforcement but is opposed to the banning of cash.
"We do not believe that the elimination of cash transactions will have any possible impact on the thefts of metal and could increase the incidents of illegal activity," said Ian Hetherington, director general of the British Metals Recycling Association.
"Our members do not particularly relish the use of cash. But their customers do demand they are paid in cash and their customers range from plumbers [to] builders, roofing contractors, demolition contractors [and] the whole range of people who on a day-to-day to basis sell scrap and they sell scrap for cash."
But the British Transport Police also wants cash transactions banned.
"It fosters criminality by employee against employer, by company against company and by employee against the person who's actually bringing in the material," said Deputy Chief Constable Paul Crowther.
The number of metal theft suspects arrested during 2011 was four times greater than in 2010, he said.
"It amazes me that in this day and age, with all the money laundering regulations, that you've got this multi-billion pounds a year business - it's a £5bn a year business in the UK - which is run largely on a cash basis with almost no checks and balances about who sells the material.
"My serious belief is that if you put those measures in place, Johnny in the white van isn't going to want to turn up, produce his passport or his driving licence and proof of where he lives so we can then very quickly check where [his metal] comes from."
"We want to work with the scrap metal industry," said Mr Crowther, who believes there is more scrap yards could do voluntarily to help tackle metal theft.
Lord Henley also said he wanted to encourage the scrap industry to adopt a cashless system voluntarily backed up by proper ID checks.
"I welcome the fact that some voluntarily are moving in this direction," he said.
"The rest of the industry say they are keen on regulation and will co-operate with that regulation but are not yet persuaded that they need to go cashless. But I think we'll be having some very realistic discussions with them about that."