Blue Peter's Helen Skelton starts South Pole challenge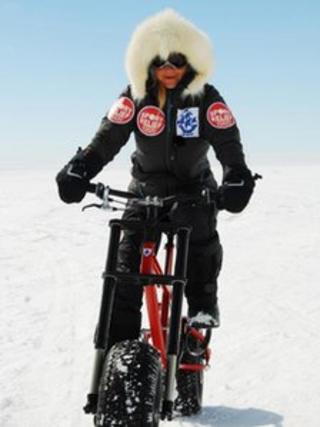 Blue Peter presenter Helen Skelton has begun her bid to reach the South Pole after bad weather had caused a delay.
The TV star will travel 500 miles across Antarctica using an ice bike, skis and a kite to raise money for Sport Relief.
In the process, she hopes to set a new world record for the longest bicycle journey on snow.
The 28-year-old will use a bicycle with specially adapted tyres with a width of 20cm (8in).
Skelton's latest adventure follows her successful high-wire walk between the chimneys of Battersea Power Station, in London, and a solo kayak voyage down the length of the Amazon.
She said: "I am desperate to get started and to get a few miles under my belt.
"Bad weather delayed the start of my challenge by four days and that means I now have less time to reach the South Pole - so the sooner I get going, the more likely I am to finish.
"I've decided to start my polar challenge on my ice bike as I'm determined to prove that you can ride part of the way to the South Pole."
Skelton will pull a sledge that weighs a total of 82kg (13 stone) and contains her supplies.